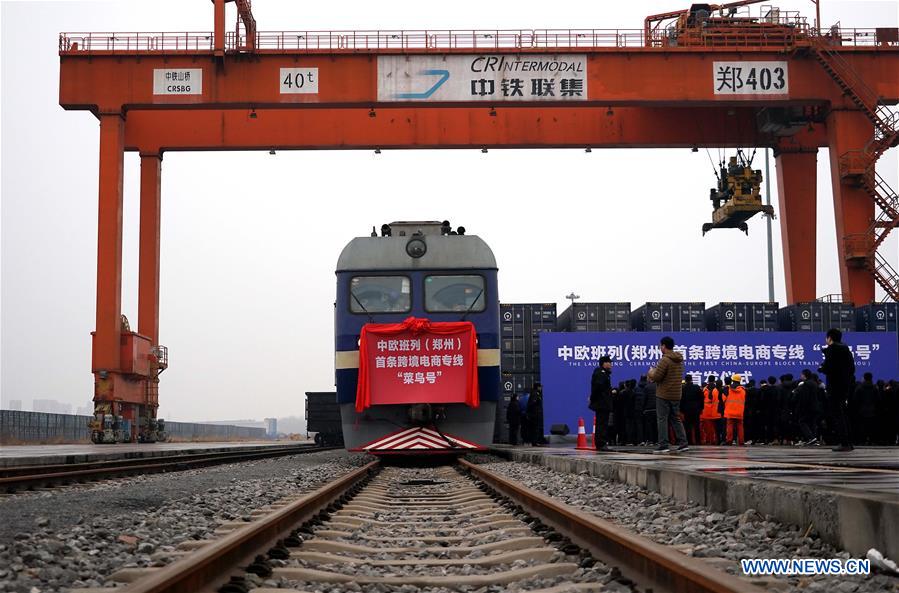 The China-Europe freight train for cross-border e-commerce waits to depart from Zhengzhou, capital of Central China's Henan province, March 2, 2019. The train, named "Cainiao", left Zhengzhou for Liege of Belgium on Saturday. [Photo/Xinhua]
A new freight train service between China and Europe was launched on Saturday from Zhengzhou, capital of Central China's Henan province, to Belgium, extending China's efficient and cost-effective logistics network to more European cities, according to the local carrier.
The latest addition to the China-Europe freight train service is the first railway express line exclusively for cross-border e-commerce in China, and also the first freight line in the country to operate under customs surveillance code 9610 for cross-border e-commerce, according to Zhengzhou International Hub Development and Construction Co Ltd, the local carrier.
The code allows e-commerce retailers to deliver goods separately and declare all imported and exported goods collectively, it said.
Using paperless electronic customs clearance improves the efficiency of customs clearance, timeliness and access to tracking information, it said.
The two trains will depart each week between Zhengzhou and Liege, Belgium.
It is expected that it will cut logistics costs by 30 percent, said Cainiao Network, the logistics arm of Alibaba Group.
"The freight line is regarded as a new milestone to strengthen our global smart logistics network, with six global hubs around the world - Liege, Dubai, Hangzhou, Kuala Lumpur, Hong Kong and Moscow," according to Cainiao Network.
"The new route provides another choice for cross border e-commerce, it is much cheaper than air transportation, and faster compared with sea transport," according to Zhengzhou International Hub Development and Construction Co Ltd.
Domestic goods, such as clothes and electronic products, will be delivered to 28 countries, including Poland, France and the Czech Republic, the local carrier said.
China-Europe freight trains made 6,363 trips last year, up 73 percent year-on-year, connecting 59 cities in China with 49 cities in 15 European countries, the local government said.
With the launch of the new route, Zhengzhou will be on the way to building a global digital logistics operation center, linking with countries and regions involved with the Belt and Road Initiative amid booming e-commerce, it added.
Cosmetics goods and some big-ticket items will be the first items to be transported on the China-Europe freight trains, according to Cainiao Network.
"Europe is an important market. The freight train will further diversify our logistics offerings for small and medium-sized businesses and help them get greater and easier access to cross-border trade opportunities," said James Zhao, general manager of Cainiao Global.
The launch of the new line was welcomed by the firm's Belgian counterpart, according to Cainiao Network. It is an important next step in building a world-class logistics infrastructure solution in the heart of Europe - "here in Liege," Michel Kempeneers, COO Overseas of Wallonia Export-Investment Agency of Belgium, said.
This air-rail link will be operated by Belgian logistics players who also offer river barge services from the Port of Antwerp, making Liege an ideal partner to serve Chinese and European e-merchants, according to Kempeneers.
Last December, Cainiao entered an agreement with Liege Airport to build a world-class smart logistics hub at the airport, which is expected to open in early 2021. It also launched an intercontinental cargo flight between Hangzhou and Liege to ensure fast delivery of goods in 2018.