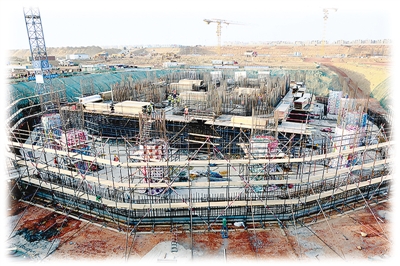 The construction site of the Central Business District (CBD) project in the New Administrative Capital, Egypt (Photo by China State Construction Engineering Corporation)
Chinese enterprises have built several landmark projects in countries participating in the China-proposed Belt and Road Initiative (BRI).
The Central Business District (CBD) project in the New Administrative Capital, about 45 km east of Cairo, Egypt, is one of them. The project is currently being carried out by the China State Construction Engineering Corporation (CSCEC).
The 385.8-meter-high Iconic Tower, as part of the CBD project, is expected to become the tallest tower in Egypt and Africa.
The Iconic Tower base, made from 18,500 cubic meters of concrete and reinforced iron bars, was poured in late February over a period of 38 hours, a milestone in Egypt's construction history.
To ensure smooth construction, CSCEC developed self-compacting concrete suitable for the desert climate and introduced China's advanced techniques in Egypt.
Tian Wei, a chief engineer of the Iconic Tower project, said that he and project managers had inspected construction in those 38 hours to guarantee quality, adding that CSCEC was the right choice for the CBD project due to its excellent brand image.
The Moscow subway project is another example. China Railway Construction Corporation Limited (CRCC), a state-owned construction firm, won the bid to build the southwestern sector of the Moscow metro railway and station projects on Jan. 24, 2017.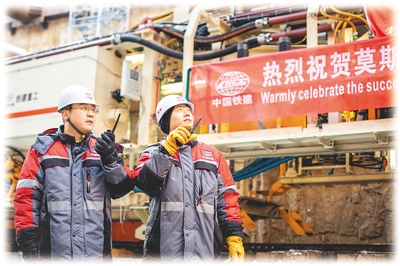 Chinese staff work at the construction site of the Moscow subway project undertaken by China Railway Construction Corporation Limited (Photo provided by CRCC)
It was the first time that Russia had invited a foreign company to participate in its subway construction.
CRCC developed five shield tunneling machines for the project, predominantly used for construction in icy conditions, said Chen Zhencheng, head of the Engineering Technology Department of CRCC's Moscow subway project.
Thanks to their outstanding performance in project progress, safety and quality, the team have since won bids for more projects in Russia.
The Belo Monte hydropower project is also a landmark project for the BRI in Brazil. Phase II of the project will implement the first ultra-high-voltage (UHV) transmission overseas line, which the State Grid Corporation of China (SGCC) invested in independently.
The 2,500 kilometer-long power transmission project is also the longest 800 kW UHV line in the world.
Cai Hongxian, head of SGCC's Brazil branch, said that it was China's UHV technology that made the Brazilian government chose SGCC for the project.
The project will promote the development of upstream and downstream sectors such as electrical equipment and raw materials, and create direct employment opportunities for 16,000 people in Brazil.