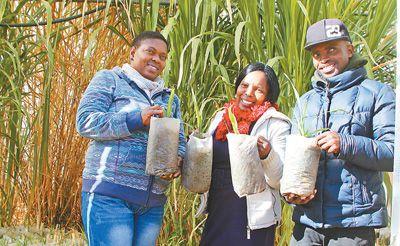 Local farmers planting mushrooms pose for a photo. (People's Daily/Wan Yu)
As a project under the China-UN Peace and Development Trust Fund, Juncao technology, an agricultural technology to cultivate edible and medicinal mushrooms, is helping people in Lesotho escape poverty and live a better life.
In 2006, China and Lesotho sealed a deal to use Juncao technology, which was invented by Lin Zhanxi, chief of the Juncao Research Institute at Fujian Agricultural and Forestry University.
Since then, over 2,400 people from Lesotho have received training in mushroom planting, and more than 30 government officials and members of technical staff have studied Juncao technology in China. Now, over 900 households in Lesotho are growing mushrooms.
"Before Chinese experts came, we could only find imported mushrooms from South Africa in high-end supermarkets. Now, more people have taken to it", said a local named Tseliso Motsamai.
Starting to plant mushrooms under the guidance of Chinese experts in 2014, Motsamai now earns 2,400 maloti ($178) by selling 65kg of the fungus. Juncao technology significantly improved her family's livelihood, she added.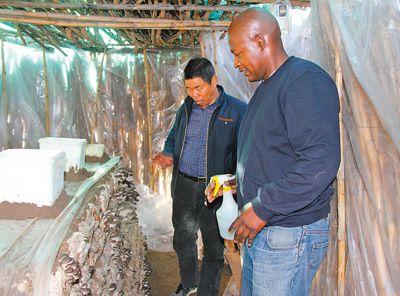 A Chinese expert gives instructions to a local farmer. (People's Daily/Wan Yu)
Like Motsamai, many others in Lesotho have also benefited from this technology. Samuel Motlomelo, a cattleman, explained that his cows now produce much more milk after he started feeding them Juncao. He is also able to use cow manure produced on his farm to fertilize the Juncao crops under the guidance of Chinese experts.
Some villagers have been running their own Juncao businesses since as early as 2009. Mamhete, head of a local production group, said that the technology was originally quite difficult to learn. However, the Chinese experts were very patient and taught locals without reservation.
Mbembe, who was in charge of the group's financial affairs, said that they could make 12,000 maloti every month just from selling Juncao.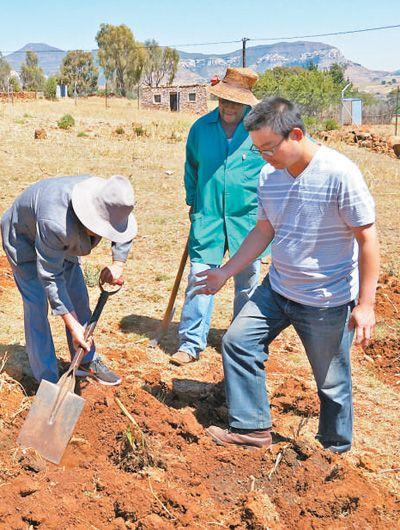 A Chinese expert and local farmers plant Juncao. (Photo courtesy of China-Aid JUNCAO Technology Project in Lesotho)
Juncao crops can be harvested within a short time. Using just 10 square meters of soil, farmers can grow 300kg of fresh mushrooms within three months. Their income in a year could amount to a similar salary earned by a member of staff working in a state-owned enterprise, said Lin Yeting, a member of the Juncao cooperation project.
Though there were some barriers to begin with, the project team still chose to stay. "We saw the support and passion from local people for Juncao technology," said Chen Kehua, head of the group.