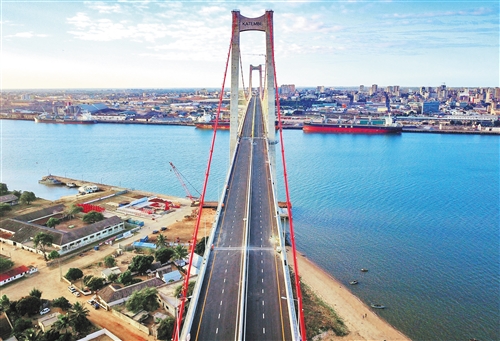 The Maputo–Katembe cross-sea bridge, built under the support of China Export & Credit Insurance Corporation. (Photo/www.ce.cn)
China Export & Credit Insurance Corporation (Sinosure), a national policy-oriented insurance agency, has actively supported Chinese enterprises in their exploration of markets in countries along the Belt and Road.
Since 2013, the company has insured exports and investments worth $712.43 billion for Chinese enterprises in Belt and Road countries, issuing more than 2,300 insurance policies with over $2.7 billion paid out in claims.
The Maputo–Katembe bridge, now Africa's longest suspension cross-sea bridge, was built by China Road & Bridge Corporation (CRBC). The bridge connects the Mozambican capital Maputo with its adjacent suburb of Katembe.
Wang Lijun, CRBC's vice president, said that Sinosure helped his company increase its bargaining power to win the project, even though 85 percent of the company's construction funds were commercial loans.
First opened to traffic on Nov. 10, 2018, the bridge has boosted the development of local logistics and tourism, drastically reducing travel time from three hours to less than 20 minutes.
So far, Sinosure has helped export enterprises finance 50 cooperation agreements, worth $270 billion, with institutions relevant to the Belt and Road, and has also aided broader cooperation with over 270 financial institutions around the world.
Additionally, Sinosure has signed 50 strategic cooperation agreements with 32 local governments in China to support enterprises in cooperating with Belt and Road countries.
In 2018, the insurance company supported enterprises in east China's Jiangsu Province export $20.5 billion worth of goods to countries and regions along the Belt and Road.