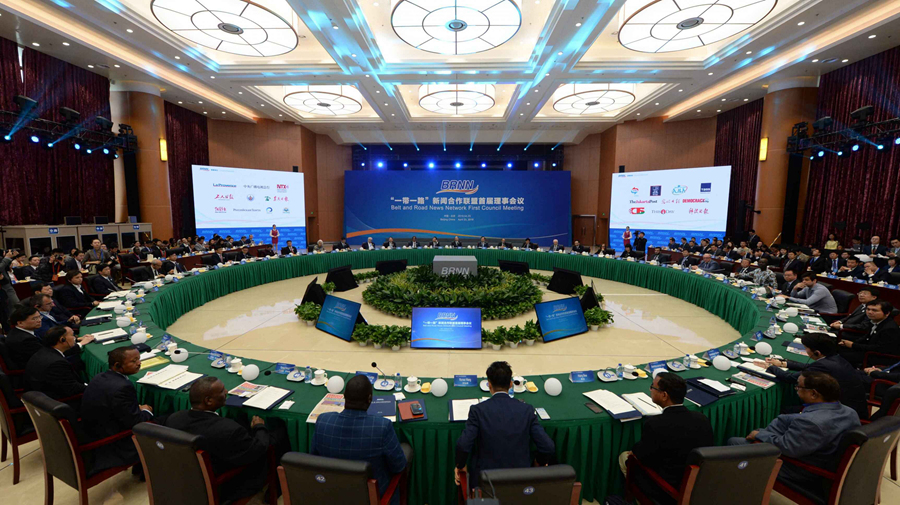 The first meeting of the Belt and Road News Network (BRNN) council. (Photo/People's Daily Online)
Beijing April 23 (People's Daily Online) -- Chinese President Xi Jinping today sent a congratulatory message to the first meeting of the Belt and Road News Network (BRNN) council, held at People's Daily Headquarters in Beijing.
In the message, President Xi said that the Belt and Road Initiative (BRI) comes from China, but its opportunities and achievements are for the world to share.
Xi noted that participants in the BRI follow the Silk Road spirit of peace and cooperation, openness and inclusiveness, mutual learning and mutual benefit to turn it into a road of peace, prosperity, openness, green development and innovation and a path that brings together different civilizations.
China is glad to see the media's positive and constructive role in forging partnerships with the BRI since its inception, the Chinese president emphasized, adding that the BRNN provides a convenient platform for exchanges and cooperation between media from various countries.
Xi expressed the hope for members of the BRNN council to enhance communication and cooperation and do more to promote policy coordination, facilities connectivity, unimpeded trade, financial integration and people-to-people bonds by carrying forward the Silk Road spirit.
Members should tell BRI stories well and foster a sound environment for public opinion for the construction of the Belt and Road, so that the BRI could better benefit the people of Belt and Road countries, Xi said.