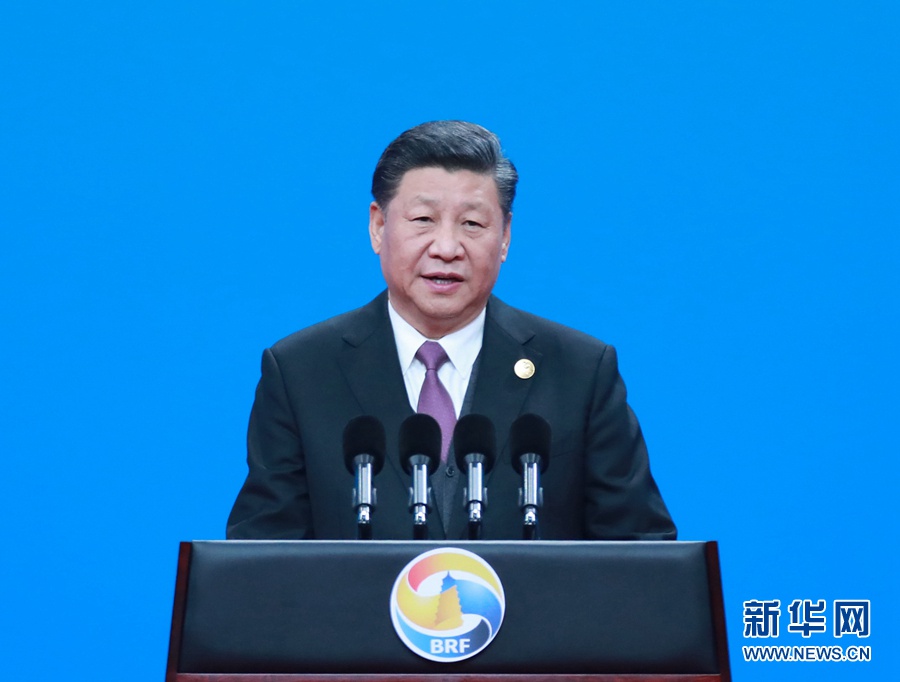 Chinese president Xi Jinping deliveres a keynote speech at the opening ceremony of the Second Belt and Road Forum for International Cooperation in Beijing on Friday. (Photo/Xinhua)
Beijing, April 26 (Beijing) -- Chinese president Xi Jinping delivered a keynote speech at the opening ceremony of the Second Belt and Road Forum for International Cooperation in Beijing on Friday. Foreign journalists spoke highly of Xi's speech, noting that it sent a strong message of China's commitment to high-quality cooperation and shared benefits to the world, and expressing their confidence in BRI's bright future.
Taking stock of the Belt and Road Initiative six years on, Xi mentioned that more than 150 countries and international organizations have signed agreements on Belt and Road cooperation with China, adding that the Initiative has helped improve people's lives in the countries involved and created more opportunities for common prosperity.
Moving forward, China will pursue open, green and clean cooperation and high-quality Belt and Road cooperation under the principle of extensive consultation, joint contribution and shared benefits, according to Xi.
"I'm really impressed by such statements as common development and shared benefits," Md. Enamul Hassan from Bangladesh's Daily Sun told People's Daily Online, "because this statement will help remove the confusion about the BRI. As the principle of equality and mutual benefits is the driving force of the BRI, the western propaganda of debt trap will fall flat."
Echoing Hassan, Mahendra Subedi, editor of Nepal's Rastriya Samachar Samiti, RSS, said he was impressed by the leader's remarks about promoting economic governance for common prosperity and partnership as well as contributing to better livelihood.
During his speech, President Xi said no to protectionism and called for more free trade and a more open market.
China is both a "global factory" and a "global market", said Xi, highlighting that China will steadily open China's market wider to quality products from across the world and ensure full implementation of the Foreign Investment Law.
These remarks were applauded by Nekoulko Nadjingar, a Chadian journalist from Agence Tchadienne de Press et d'Edition. "By facilitating trade, many African businessmen will bring African products to sell in China and vice versa. This will help Africa boost its economy."
Xi also urged all participating countries to work closely together in order to transcend geographical distance and embark on a path of win-win cooperation. "We will help developing countries eradicate poverty and achieve sustainable development," Xi added.
In light of this, Bilal Ahmed Sabri, a journalist from Pakistan Daily, said the commitment to poverty alleviation sent a strong message to people from developing BRI countries, adding "even the Prime Minister of Pakistan appreciated President Xi's initiatives for poverty alleviation and opening-up policy."
Mentioning that Pakistan is now moving towards the 2nd phase of CPEC and construction of economic zones, Sabri has high hopes for the building of more BRI projects and is looking forward to seeing BRI bring more benefits to people around the world.
"It will help countries get closer and make the world a better place to live," he said.