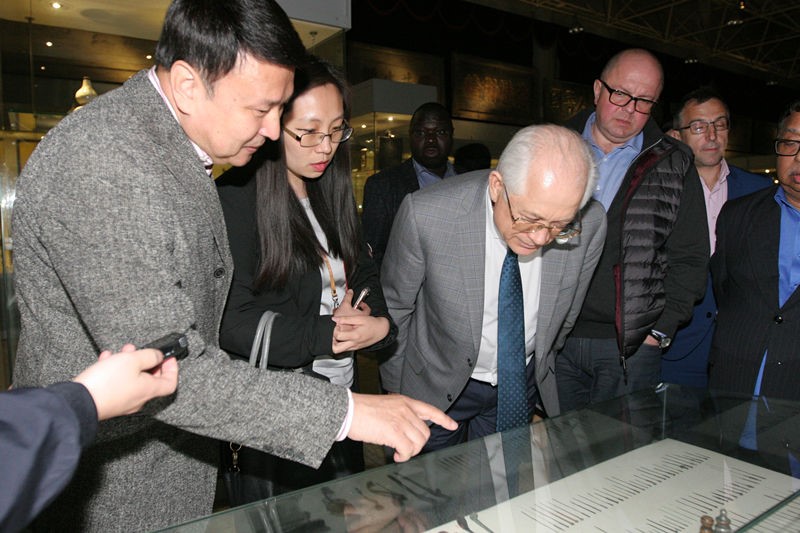 Representatives of the Belt and Road News Network council watch acupuncture instruments from Ming and Qing dynasties at Beijing Yu Sheng Tang Traditional Chinese Medicine Museum, April 24, 2019. (Photo by Ji Peijuan/People's Daily)
Delegates from foreign council members of the Belt and Road News Network (BRNN) visited a traditional Chinese medicine museum in Beijing on April 24, experiencing the charm of TCM in ancient and modern times.
Beijing Yu Sheng Tang TCM Museum has a history of over 400 years. As a medicine store in the past, it integrates TCM and Chinese herbology, and displays medical instruments and cases in all ages.
The museum collects a brown silk handkerchief for wrapping needles from Liao Dynasty (907-1125) aroused interest among foreign guests. The pattern on the handkerchief shows a man and his seven camels trekking in desert.
The handkerchief indicates that the booming trade along the ancient Silk Road played an important role in promoting the exchanges on medicine between China, central Asian and west Asian countries.
Other collections including herb rollers, ancient plaques, statues of Shennong holding ganoderma, wooden medicine boxes, fossilized animal bones with carved inscriptions, golden and silver needles, and feathered first aid kits are also displayed in the museum.
In recent years, the number of foreign visitors who are keen on TCM has kept rising, said Bai Jianjiang, curator of the museum, adding that it is conducive to revitailizing and promoting TCM as well as propecting health of mankind.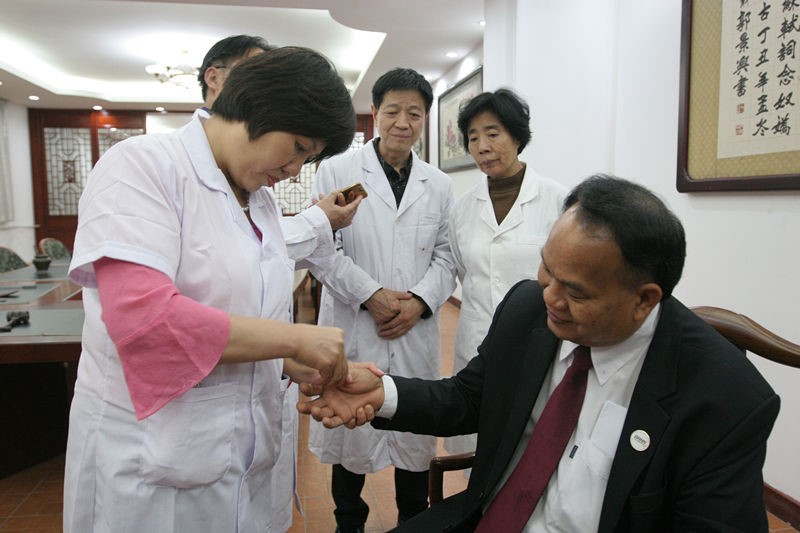 Thonglor Duangsavanh, director general of Lao Press in Foreign Languages, tries finger stretching during the visit. (Photo by Ji Peijuan/People's Daily)
TCM is not only an asset of ancient Chinese science, but also a key to open the treasure house of Chinese civilization, said Fang Jiangshan, deputy cheif editor of People's Daily that serves as council chair of the BRNN.
Modernization and internationalization of TCM in the past few years has fully demonstrated mutual learning advocated by the Silk Road spirit, Fang added.
The museum exhibited TCM diagnostic instruments, and rolled out activities such as pulse feeling and massage in the experience area. Media representatives learnt how to smash and package Chinese herbal medicine on the site.
Thonglor Duangsavanh, director general of Lao Press in Foreign Languages, said that his fingers and knees ache every time he eats sea food, which gets worsening when it rains.
A Chinese doctor named Chen Meijun made him a Chinese herbal prescription and said that these medicine could remove cold and dampness in his body. Along with finger stretching, Duangsavanh's symptons will be effectively mitigated.
A journalist named Eleonora Gonen with Russian Gazette said she was planning to write an article on TCM. Modernization of TCM would be a great perspective, in which she believes Russian people would be interested.
"People live under much pressure in the modern world. Critical thinking-focused TCM could give us some inspiration on disease prevention, rehabiliation and health care, " said a journalist with Lao Press in Foreign Languages, adding that the TCM experience in the museum represents another cultural exchange.
Nowadays, TCM has been spread to 183 countries and regions, becoming a significant area of health coopeation between BRI countries.
Tu Zhitao, director of Beijing Administration of Traditional Chinese Medicine, expressed his hope for repersentatives from the BRNN to further boost innovation and exchanges on health policies of BRI countries through the media convergence platforms.