Thousands of ventures to be announced over the next few days
The China International Fair for Investment and Trade 2019 opened in Xiamen, East China's Fujian province on Sunday, highlighting cooperation among countries and regions involved in the Belt and Road Initiative and their surging investment opportunities.
Aiming to facilitate bilateral investment globally, the fair was held together with the first Belt and Road Investment Congress, which will run through Wednesday.
"We are always open for any kind of cooperation and are willing to play as a linkage to connect the other parts of the country, especially those inland areas, with the outside worlds," said Yu Weiguo, Party secretary of Fujian.
"We hope the countries and regions taking part in the BRI can have a better future because the initiative is for the common interests of the people involved and will lead to peace, prosperity, openness, innovation and civilization," Yu said.
Covering an area of 130,000 square meters at the Xiamen International Conference and Exhibition Center, the fair is composed of 16 professional exhibits in three major categories: investment, business attraction and trading along the Silk Road.
While setting up a national investment pavilion for countries and regions taking part in the BRI to showcase their advantages and projects seeking cooperation, there is also a digital Silk Road area displaying the achievements of these countries and regions, including 5G devices, telecommunications network equipment and data security.
A couple of entities and associations, including the Asian Infrastructure Investment Bank, Silk Road Fund, New Development Bank, China International Contractors Association and China Association of Development Zones, set up an area for infrastructural and development zone cooperation.
Dozens of large-scale State-owned enterprises and leading private companies are exhibiting to promote connectivity of infrastructure and more funding in BRI and regions.
China Co-op Group, a State-owned company specializing in agribusiness, has organized the first Belt and Road farm products trade fair at the CIFIT, attracting the interest of nearly 20 countries and regions involved in the BRI, including Italy, Nepal, India, Sri-Lanka and Kenya.
The China Council for the Promotion of International Trade also moved its fair for products featuring green innovation technologies to the CIFIT this year, presenting China's cooperation with countries and regions along the 21st Century Maritime Silk Road in environmentally friendly industrial investment, green development and poverty alleviation.
According to the CIFIT organizing committee, the fair has attracted exhibitors from more than 40 countries and regions with Serbia, an important country involved in the BRI, acting as this year's Guest Country of Honor. The committee has arranged nearly 100 forums and conferences - with a wide variety of themes from industrial internet, green innovation, modern sea transportation to robots and agriculture - during the four-day event to solicit global wisdom and exchanges.
Representatives from at least 200 international associations and business chambers have also attended, including the United Nations Conference on Trade and Development, The United Nations Industrial Development Organization, the Association of Southeast Asian Nations Secretariat and the World Association of Investment Promotion Agencies. An incredible 30,000 projects will be announced at the fair, while the organizing committee will arrange no less than 3,000 activities to promote project matchmaking and business talks.
The CIFIT organizing committee will also arrange project matchmaking activities exclusively for the countries and regions along the Belt and Road route and invite their governmental agencies, investment promotion agencies and companies to give briefings on business environment, preferential policies and potential projects. According to the organizing committee, the fair is expected to attract more than 100,000 professional visitors and 3,000 companies from over 120 countries and regions. More than 100 multinational corporations and Fortune 500 firms will attend the events.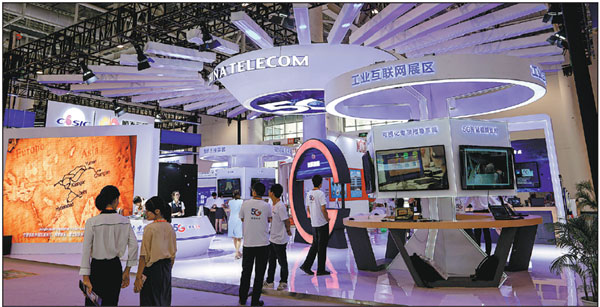 The booth for industrial internet attracts visitors at the ongoing China International Fair for Investment and Trade 2019 in Xiamen, Fujian province. Photos by Lin Yuyang / For China Daily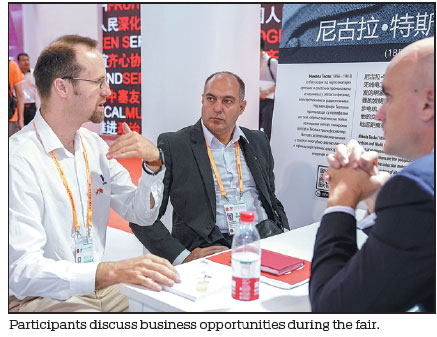 (China Daily 09/09/2019 page12)