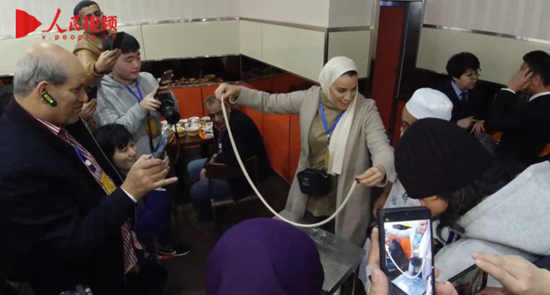 (Photo/People's Daily Online)
Fifteen senior journalists from Arab countries visited Hongbinlou, a well-known restaurant in Lanzhou, northwest China, on Oct. 27. During their visit, they tried the famous Lanzhou beef noodles, as part of the second media workshop organized by the Belt and Road News Network (BRNN).
"When I first came to China two years ago, my first meal in Beijing was Lanzhou beef noodles," said Hossam Abd Alalem, Head of Diplomatic Affairs Department from Akhbar El-Yom of Egypt, explaining his special affection for the dish. "Of course, Lanzhou is the most authentic place to eat beef noodles," he added.
"The spice is just right." "Lanzhou beef noodles taste very special, very different from the noodles that we Arabs usually eat," the journalists said.
Ma Wenbin, the fourth-generation inheritor of Hongbinlou Restaurant, demonstrated four ways to prepare the beef noodles for the journalists.
"Lanzhou beef noodle-making is an art! Lanzhou beef noodles are the name card of Lanzhou!" said Sawsan Khalifa, a reporter from Alsudani of Sudan.
Hind Alsareem, a reporter from Dubai Media Incorporated (DMI) in the United Arab Emirates, couldn't resist trying to make the noodles herself. "The dough is neither soft nor hard. It feels good and is easy to make noodles with. This way of making noodles is so convenient!" she said.