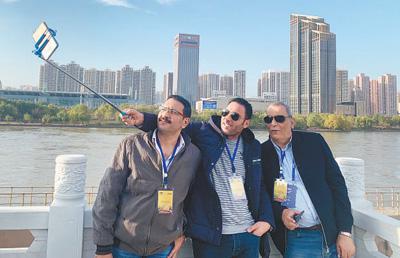 Foreign journalists take a selfie along the Yellow River. (Photo/People's Daily Oveseas Edition)
The government of Lanzhou, northwest Gansu province, recently converted an abandoned pump house into a pavilion to improve the ecological environment along the Yellow River, China's second longest river. The move wowed Arab journalists, who paid a visit there as part of the second media workshop for the Belt and Road News Network (BRNN).
It is an insightful policy, combining hydrology, environmental protection, tourism and urban culture, said Mohamed Ouertatani, President and CEO of Dar Assabah Media Group, Tunisia.
Lanzhou runs many industrial projects, yet its ecological environment has been well protected, pointed out Ouertatani, who owes such progress to the government's great efforts.
Over the years, the local government has appointed officials as river chiefs to clean up and protect water resources, speed up the treatment of industrial wastewater, and coordinate efforts to prevent and control water pollution under scientific guidance.
The assessed sections of the main streams are suitable for drinking after regular purification procedures such as filtering and sterilizing.
While dealing with pollution of the 152-km section of the Yellow River, the local government has also taken measures to improve the landscape alongside the river to brighten up the city. For example, Lanzhou has built a flower-themed area of 423,000 square meters near the river.
"I'm impressed by the Yellow River and Lanzhou. The Chinese government is trying to make the city both smart and beautiful, which is not an easy thing to do," said Hamood Al-Mahrezi, Deputy Editing Director of Oman Establishment for Press, Publication and Advertising.
Designs such as the pavilion and walkway alongside the river combine humankind with nature, said Ahamada Mohamed, copyeditor of Al-Watwan, Comoros. He wanted to write an article about it so that the people back home could understand how Chinese cities develop in harmony with nature.