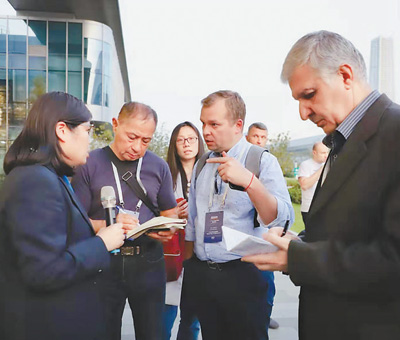 Foreign journalists visit the Hengtong Photocommunication Science Park in Jiangsu province. (Photo/Wang Shubin)
The second short-term media workshop for the Belt and Road News Network (BRNN) concluded in Beijing on Nov. 2, and 39 editors and journalists from 19 countries shared their understanding of China at the closing ceremony.
"The two-week workshop brought us unprecedented magical experiences. China is a great country," said Umatkul Bralkieva of the Slovo Kyrgyzsatana Publishing House.
It's been six years since Chinese President Xi Jinping first proposed the Belt and Road Initiative (BRI), and the BRI has become the world's largest and most widely welcomed public product.
During the process of Belt and Road construction, media plays a unique and important role. On April 23 this year, the BRNN First Council Meeting kicked off at the headquarters of People's Daily in Beijing. It received a congratulatory letter from President Xi, marking concrete progress in the building of the BRNN.
The media workshop is a major project to implement the joint declarations of media cooperation under the BRNN framework. It is hosted by the State Council Information Office and jointly organized by the Secretariat of BRNN (the External Relations Department of People's Daily) and Communication University of China. The first workshop was held from Sept. 16 to 28 this year.
The second workshop started on Oct. 21. In just two weeks, the participants were divided into two teams and visited different parts of China separately. They saw, heard and felt on their journey, recording Chinese stories and getting a taste of China's colorful culture.
"Seeing is believing. We have seen a prosperous China," noted Alexandru Tanas, Director-General of Moldova's News Agency Infotag.
It was the first time many of the participants had traveled to China, and the workshop helped them discard previous prejudices surrounding the country. Tatiana Sudakova, the editor of Russian news site Svabodnaya Pressa, said that many countries misunderstand China's development.
Sawsan Khalifa from Sudanese newspaper Alsudani noted that China attaches great importance to dialogues and communication, and has become a friend of many countries by establishing "circles of friends" around the world.
The BRI is based on mutually beneficial cooperation and voluntariness, and has opened a new vision for the world, said Hossam Abd Alalem, Head of Diplomatic Affairs Department of Egyptian media outlet Akhbar El-Yom. "I hope Arabian countries can join hands with China and inject new energy into the construction of the Belt and Road," he added.
Kemar Mashanlo, a reviewer from Kazakhstan's International News Agency KazTAG told People's Daily that during the workshop, he made like-minded friends and acquired objective information about China, and witnessed China's development and the importance of the BRI.