The upcoming trip of Chinese President Xi Jinping to Europe and Latin America is bound to inject new impetus into the development of China-Greece relations and China-Europe relations, and add new momentum to deepen the partnership among BRICS countries and improve of global governance.
At the invitation of Greek President Prokopis Pavlopoulos, Xi will pay a state visit to Greece from Nov. 10 to 12.
Xi's forthcoming state visit to Greece will mark the first state visit by a Chinese president to Greece in 11 years. It will further consolidate mutual political trust and traditional friendship between the two countries, deepen bilateral pragmatic cooperation, boost the building of an open world economy, and create a new chapter of communication, mutual learning and harmonious coexistence between different civilizations.
As an ancient civilization in Europe, Greece has enjoyed lasting friendly interactions with China. The two countries have a natural affinity with each other, and have witnessed close exchanges on the international stage.
In recent years, China-Greece comprehensive strategic partnership has developed continuously, with friendly cooperation in various areas keeping expanding.
Greece has firmly supported and actively participated in the joint building of the Belt and Road Initiative (BRI). The Piraeus Port project in Greece has become a flagship BRI project.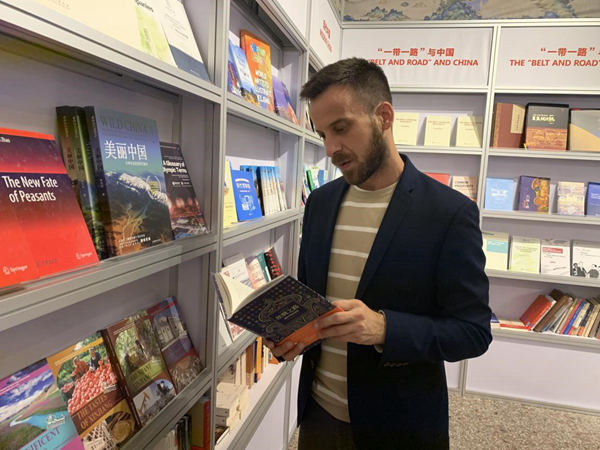 A citizen in Athens reads a book at an exhibition of China-themed books held in 2019 in Athens, Greece. (Photo by Ye Qi/People's Daily)
China and Greece have intensified efforts to promote exchanges and mutual learning among civilizations. The two countries have jointly launched the Ancient Civilizations Forum and advocated inclusiveness and common progress of civilizations.
This April, Greece became a full member of the China-Central and Eastern European Countries Cooperation Mechanism, further enriching the comprehensive strategic partnership between China and Greece while injecting new driving force into the development of China-Europe relations and connectivity.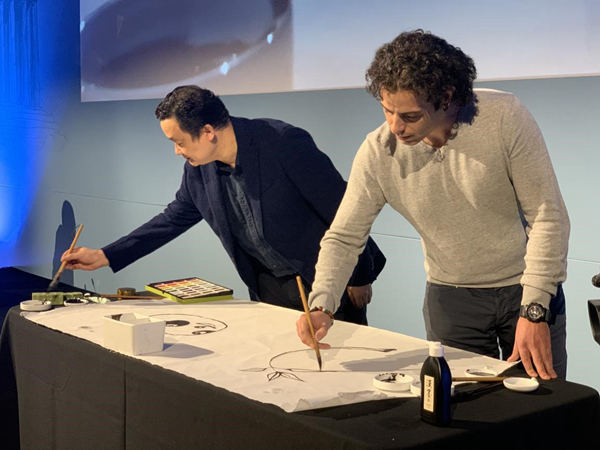 Chinese and Greek artists jointly create a painting at the exhibition "Travelling comics from China to Greece" recently held in Athens, Greece. (Photo by Ye Qi/People's Daily)
China and Greece, as the birthplaces and inheritors of Eastern and Western civilizations, can provide wisdom and inspiration for tackling the problems and challenges confronting today's world.
This May, Greek President Prokopis Pavlopoulos attended the Conference on Dialogue of Asian Civilizations in Beijing, where he expressed strong opposition to the so-called "clash of civilizations" argument.
Greek Prime Minister Kyriakos Mitsotakis recently led a large economic and trade delegation to the ongoing second China International Import Expo (CIIE), sending out a positive signal of safeguarding multilateralism together with China.
At the invitation of Brazilian President Jair Messias Bolsonaro, Xi will attend the 11th BRICS Summit which will take place in Brasilia, the capital of Brazil, from Nov. 13 to 14. Xi will also hold talks with Bolsonaro and the two will sign cooperation documents in various fields.
China and Brazil are the most representative emerging markets and the largest developing countries of the east and west hemispheres. In less than a month after Brazilian President Bolsonaro visited China, the two heads of state are going to hold talks again, which is helpful for giving full play to the strategic guidance of high-level exchanges between the two countries, constantly deepening political mutual trust, and expanding bilateral pragmatic cooperation in various areas.
The world today is faced with profound changes unseen in a century. Emerging markets and developing countries are rising collectively and unstoppably, while the aspirations for solidarity, collaboration, and gaining strength through unity is increasing with each passing day.
At the same time, the global economy is still facing many problems. Protectionism and unilateralism are becoming increasingly violent, and emerging markets and developing countries are confronted by worsening external environment.
In the face of unprecedented opportunities and challenges, more and more countries have paid greater attention to BRICS countries, whose leaders are going to discuss together the development of world economy at the 11th BRICS Summit under the theme of "Economic Growth for an Innovative Future".
Last year at the 10th BRICS Summit in Johannesburg, Xi looked back over the cooperation of BRICS countries and expressed his vision of the future development of the mechanism.
"We the BRICS countries must therefore have a keen grasp of the trend of our times, deepen our strategic partnership, and consolidate our cooperation framework underpinned by economic, political and security cooperation and people-to-people exchanges. This way, we will be able to turn our vision of a second 'Golden Decade' into a reality, and together build a community with a shared future for mankind," Xi said at the BRICS Johannesburg summit on July 26, 2018.
The initiative about forging a partnership on the new industrial revolution jointly put forward by China and South Africa is gaining momentum through cooperation on such areas as digitalization, industrialization, innovation, inclusive growth and investment.
Meanwhile, BRICS countries are making joint efforts to accelerate economic upgrading and the replacement of growth drivers.
At the upcoming BRICS Summit in Brasilia, leaders of BRICS countries will further build consensus and voice the ideas of BRICS countries on seeking common development, safeguarding equity and justice, adhering to multilateralism, and improving global governance, which will inject positive energy into the international situation filled with uncertainties.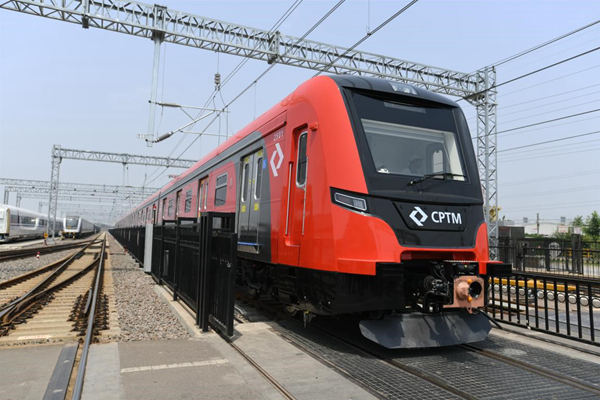 Photo taken on June 3, 2019 shows a city rail vehicle produced by China's rolling-stock maker CRRC Qingdao Sifang Co., Ltd. rolls off the assembly line. The vehicle was exported to Sao Paulo, Brazil. It was designed to serve the first city rail to the airport in South America. (Photo by Zhang Jingang and Deng Wangqiang/People's Daily)
Xi's diplomatic efforts have vividly reflected China's sincere aspiration for and concrete actions of pursuing common development and promoting peace together with various parties, demonstrated Chinese leaders' broad mind and philosophy of improving oneself and helping others and benefiting all the people in the world.
The world is looking forward to Xi's upcoming trip and expects leaders of countries to draw up a new blueprint for solidarity, cooperation, and joint efforts of various countries aiming at common development, thus enabling various countries to march together towards a community with a bright and shared future for mankind.