The number of Chinese tourists to Cambodia has continued to increase in 2019, amounting to 2 million person-times during the first 10 months of the year, up 24.4 percent from the same period last year.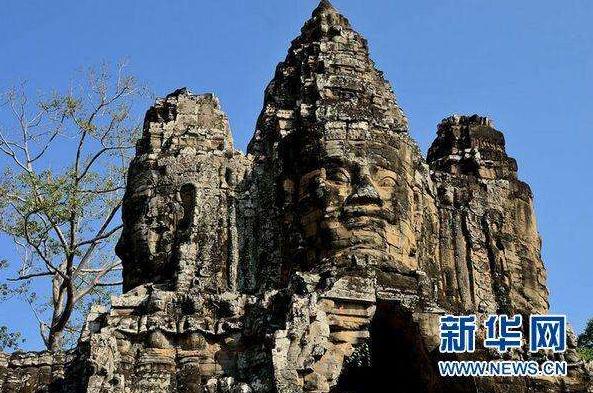 Angkor Wat (Photo/Xinhua)
On Jan. 30, China and Cambodia kicked off the China-Cambodia Culture and Tourism Year 2019 in Phnom Penh, Cambodia's capital. During the year, tourism departments from both countries have organized a variety of cultural and tourist activities, which have promoted the development of tourism resources in Cambodia.
China has been the largest source of foreign tourists in Cambodia for several years. Chinese travelers accounted for 38.3 percent of the total number of foreign tourists visiting Cambodia during the first 10 months of 2019.
According to the Ministry of Tourism of Cambodia, the number of Chinese tourists to Cambodia by the end of 2019 is expected to exceed 2.5 million, reaching 3 million in 2020.
Convenient transportation has contributed to the boom in Cambodia's tourism industry. So far, three Cambodian cities, including Phnom Penh, Siem Reap, and Sihanoukville, have opened direct flights to over 10 Chinese cities. There are now about 500 flights between China and Cambodia every week.
The Cambodian government is making efforts to create more tourist routes to China, trying to enable Chinese tourists to visit Cambodia by plane, bus and boat.
This June, the Cambodian Immigration Department issued a new arrival card in three languages, including Khmer, Chinese, and English, which helped simplify entry formalities for Chinese tourists.
Chinese tourists have always been the leading force behind Cambodia's inbound tourist market, said Thong Khon, Minister of Tourism of Cambodia, adding the fast-growing number of Chinese tourists has brought opportunities to Cambodia's tourism industry and raised new requirements for the management and services of relevant organizations.
The Cambodian government will continue to facilitate convenience for Chinese tourists and improve various aspects of the country's tourism industry, stressed the minister.
Cambodia hopes Chinese tourists can travel to more of its cities, said Khon, adding that Chinese tourists are welcome to explore areas outside Angkor Wat. He noted that where there are Chinese tourists, there are development opportunities.
Sihanoukville's development is a living example of the enormous influence of Chinese tourism, Khon noted.
Chinese tourists and investors have helped to improve the international popularity of Sihanoukville, creating jobs and significantly boosting the development of the city, which has developed from a small coastal town to a city with a population of nearly 300,000.
"We are enhancing infrastructure construction in Sihanoukville and constantly improving the city's capability to receive international tourists and investors," said Khon, noting that he hopes the China-Cambodia Culture and Tourism Year 2019 can help Chinese tourists discover Cambodia's next great tourist city.