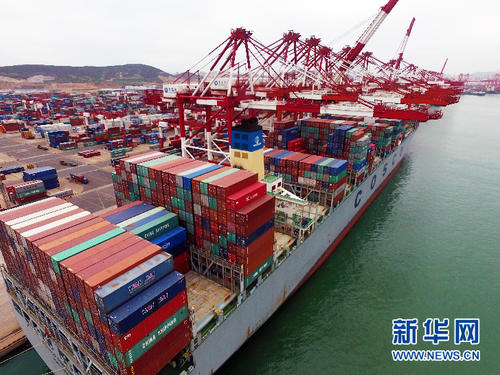 (Photo/Xiinhua)
China's foreign trade is expected to maintain momentum in 2020, owing to favorable economic conditions, analysts have predicted.
Global trade growth will decrease 0.3 percentage points to 2.7 percent in 2020, but it is still higher than the 1.2 percent forecast made in 2019, according to the World Trade Organization (WTO).
The promising world economy will surely help China to maintain steady exports, said Lu Zhengwei, chief economist with the Industrial Bank Co., Ltd.
A series of new bilateral or multilateral free trade agreements will boost China's foreign trade, including agreements with Singapore and Pakistan.
Moreover, the Regional Comprehensive Economic Partnership (RCEP) is expected to be signed in November 2020.
It will facilitate the trade and investment between China and other countries in the region, according to Jiang Yuechun, director of the Department for World Economy and Development Studies at the China Institute of International Studies.
China has also rolled out policies to stabilize foreign trade. To stimulate better imports, the country intends to lower the tariffs of consumer goods, specific advanced equipment, key components and raw materials. It will also further reduce trade costs according to the Trade Facilitation Agreement outlined by the WTO.
Meanwhile, the country strives to strengthen cooperation with neighboring countries as well as those along the Belt and Road routes to explore new overseas markets.