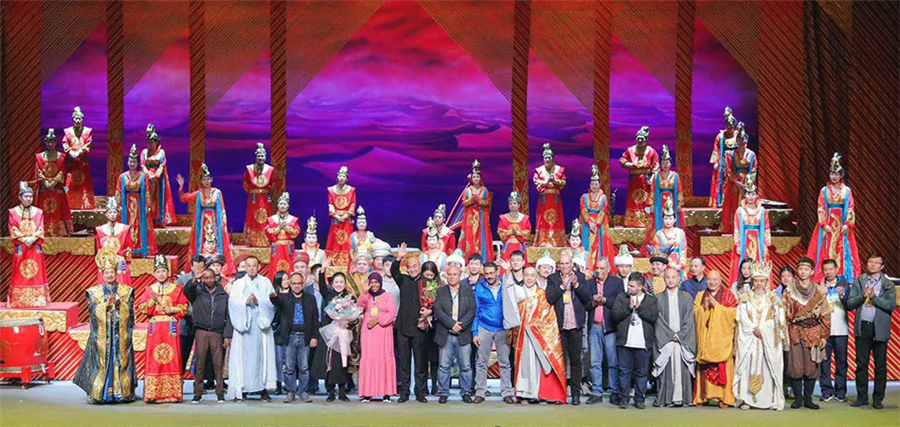 Journalists from Arab mainstream media outlets take a photo with the performers. (Photo/www.ccno.net)
Fifteen senior journalists from Arab mainstream media outlets visited a theatre in Gansu province of northwest China. They enjoyed the world's first major folk instrumental play Xuanzang's Journey to the West on the evening of Oct. 27 as part of the second media workshop for the Belt and Road News Network (BRNN).
More than 70 kinds of folk instruments including the flute and pipa and other folk art such as Xinjiang Mukam singing were presented on stage, which not only showed Xuanzang's persistent and tenacious spirit of seeking the truth, but also enabled the audience to appreciate different styles of Chinese folk music.
After the performance, senior journalists from 14 mainstream media outlets in eight Arab countries, including Egypt, Oman, Lebanon, Sudan and Tunisia, expressed their interest in the Arabesque folk music instruments, as well as the music itself, which resembles that in Arab regions and Turkey.
The art of blending Chinese and Arab characteristics presents an exceptional harmony, which partly explains the effectiveness of cultural exchange along the ancient Silk Road, according to Hind Alsareem, a reporter from Dubai Media Incorporated (DMI) of United Arab Emirates.
Talking about the choreography effect of the show, Mohamed Fourati, editor-in-chief from Al-Fajr of Tunisia, said: "The production of this nearly three-hour show is excellent, and what struck me most is that it perfectly combines the sound and light technology of modern stage design with the performance of the artists."
"It uses music to spread ideas and show the collision and fusion of different cultures. I have never seen a stage capable of mobilizing more than 70 instruments and singing in perfect harmony. This is a very successful cultural innovation, and it deserves to be extended to Belt and Road countries and even the whole world to achieve greater success, as it will surely resonate with people all over the world," he added.