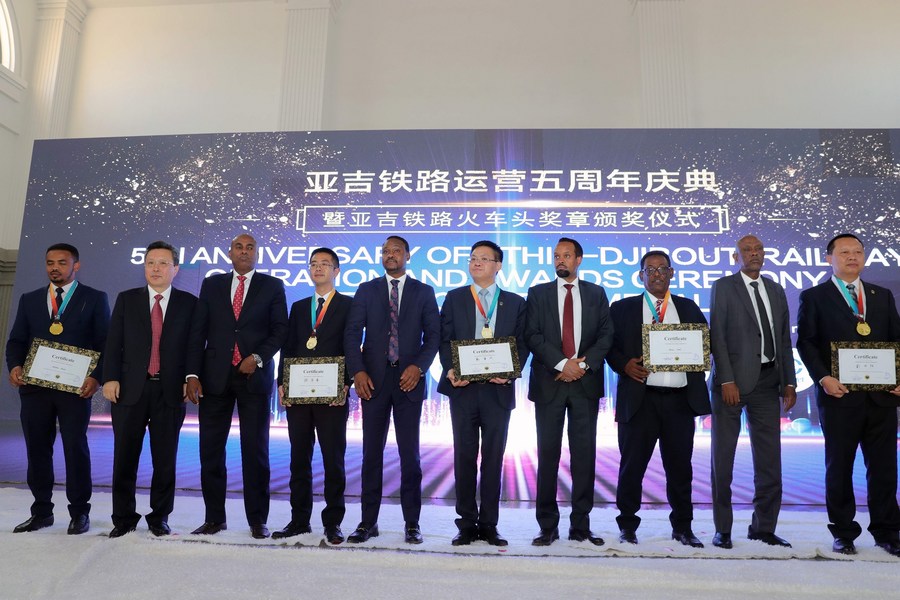 Representatives from China, Ethiopia and Djibouti pose for a photo during the celebration ceremony of Ethiopia-Djibouti railway's fifth anniversary of operations in Addis Ababa, Ethiopia, on March 8, 2023. (Xinhua/Wang Ping)
ADDIS ABABA, March 11 (Xinhua) -- The Chinese-built Addis Ababa-Djibouti Standard Gauge Railway, also known as the Ethiopia-Djibouti railway, has won acclaim for boosting regional integration and prosperity as it marked its fifth anniversary of operations.
This came as senior Ethiopian and Djiboutian government officials, the Chinese diplomatic community in Ethiopia, and management contractors of the 752-km transnational railway celebrated the anniversary at the Lebu Railway Station on the outskirts of Addis Ababa, the Ethiopian capital, on Wednesday.
Ethiopia's Minister of Finance Ahmed Shide said during the occasion that over the last five years, the railway has shown remarkable achievements in the areas of operation, maintenance and capacity building.
Shide commended the railway's crucial role in streamlining Ethiopia's export-import trade, and boosting people-to-people relations between the two neighboring countries as well as technology transfer with better coordination among Chinese and local experts.
Noting that the Ethiopia-Djibouti Railway Share Company is tasked with operations, maintenance and capacity building, Ahmed said "in all these areas, the company has been showing considerable growth." He said the railway's operation capacity in terms of freight carriage has grown by 100 percent, reaching 1.9 million tons of cargo annually.
Shide said the railway, by reaching its maximum capacity, is expected to become the best transport alternative for import-export commodities by providing fast, safe and efficient transportation service.
"The Addis Ababa-Djibouti railway line is an example of the ever-flourishing Sino-African relations. The sino-African partnership has passed the test of time, demonstrated its resilience, and marks a brighter and strong future," Shide said.
Djibouti's Minister of Infrastructure and Equipment Hassan Houmed Ibrahim, on his part, said on the occasion that the railway observed increasing performance despite major obstacles, and enabled motivated and highly committed young engineers and technicians from both countries.
Ibrahim said the quality of services offered to users, the safety of goods and people, availability, and local human relations are among the key factors in achieving greater performance quality.
The electrified railway has cut the transportation time for freight goods from more than three days to less than 20 hours, and reduced the cost by at least one-third.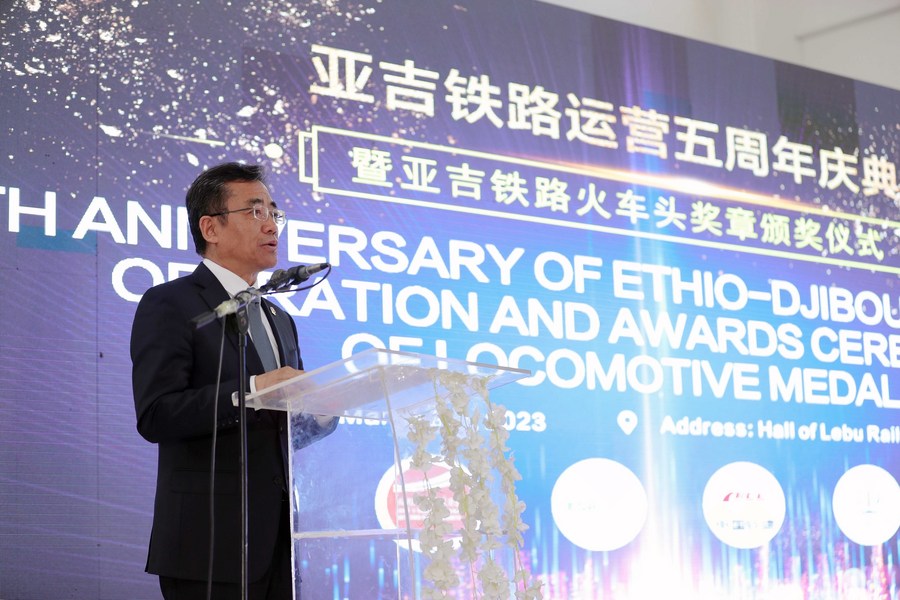 Liu Weimin, chairman of China Civil Engineering Construction Corporation (CCECC), speaks during the celebration ceremony of Ethiopia-Djibouti railway's fifth anniversary of operations in Addis Ababa, Ethiopia, on March 8, 2023. (Xinhua/Wang Ping)
Ethiopia, as a land-locked country in the Horn of Africa, accesses international maritime trade through ports in neighboring countries. The Ethiopia-Djibouti trade corridor is the main gateway for Ethiopia, with about 90 percent of import and export passing through it.
Ethiopia's State Minister of Transport and Logistics Denge Boru commended the railway's multifaceted significance for the two countries. "The railway mutually benefits the two sisterly countries in promoting regional economic and social integration, facilitating trade and industrial development, and bringing employment and entrepreneurial opportunities for citizens of both countries."
Chinese Ambassador to Ethiopia Zhao Zhiyuan lauded the railway as "a way of peace, a way of development, a way of hope, and a way to prosperity." Zhao said the railway, as an important Belt and Road cooperation project, has demonstrated greater performance and resilience.
"The past five years have been great for the Addis Ababa-Djibouti railway. I am confident that, with close collaboration between all relevant parties from China and Ethiopia, as well as Djibouti, the next five years will be even better, as the railway still holds huge untapped potential," he said.