As spring arrives, many places in China have entered a high season for flower-themed tourism. The floral beauty is generating wealth for rural areas in the country.
Huangling scenic spot in Wuyuan county, east China's Jiangxi Province offers views of flowers between mid-February and early May. The scenic spot has rolled out other products, including hotels located at the foot of mountains, hot springs and an infinity swimming pool, to enrich the tourist experience.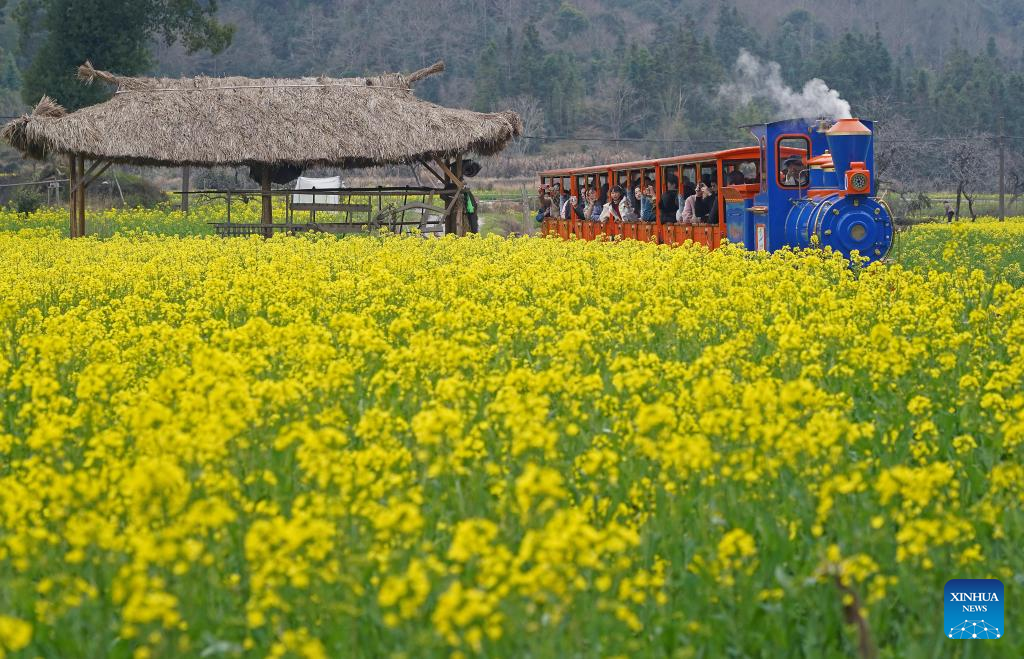 People take a sightseeing train at a scenic spot in Wuyuan county of east China's Jiangxi Province, March 3, 2023. (Xinhua/Wan Xiang)
Statistics from Mafengwo, a travel service and social networking site, indicated that over the past one week, the popularity of flower-themed sightseeing tours has increased by 133 percent and major destinations have started to see flocks of tourists.
"Over the past two weeks, flower-themed travel routes, especially those in east and southwest China, have continuously gained popularity, and road trips have satisfied citizens' needs for leisure tourism on weekends," said a manager of online travel agency Tuniu.
Guangzhou, Chengdu, Chongqing, Shanghai and Beijing are popular destinations for viewing flowers, with the popularity of Guangzhou growing more than 140 percent on a weekly basis.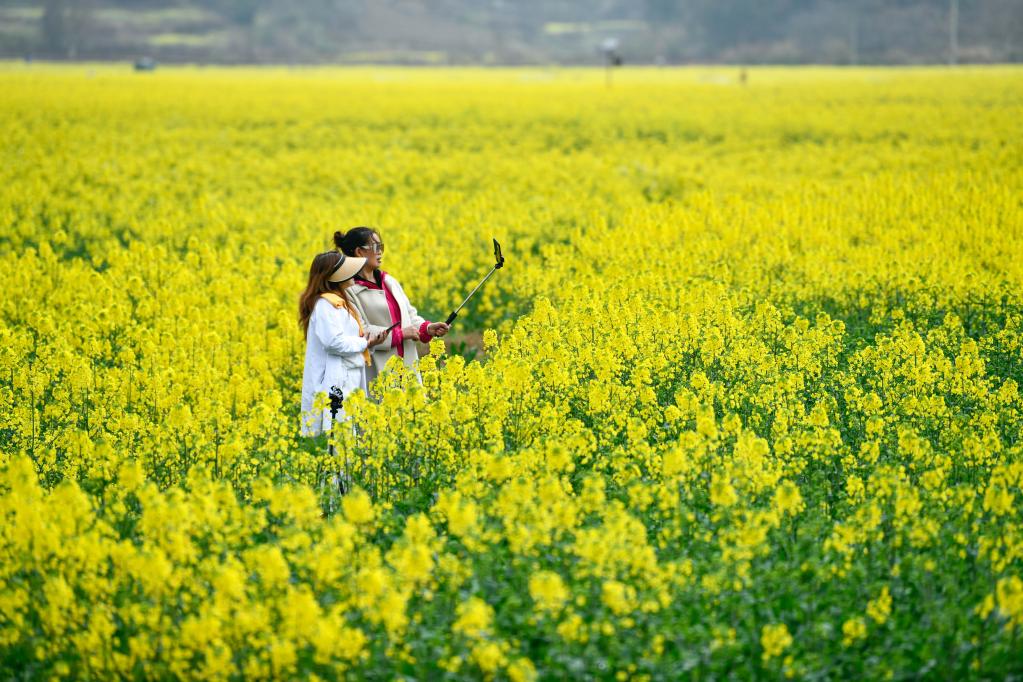 People visit rapeseed flower fields in Panjiang township of Guiding county, southwest China's Guizhou Province, March 12, 2023. (Xinhua/Yang Wenbin)
Many localities have rolled out leisure activities to add fun to flower-themed tourism products. Guiyang city in southwest China's Guizhou Province, traditionally known as a tourist destination for those who want to flee the summer heat, has brought innovations to flower-themed tours by including elements such as leisure activities, museums, and specialty food in tour itineraries.
In recent days, Wolong village in Kunming city, southwest China's Yunnan Province has seen a record number of tourists drawn by the large areas of rapeseed flowers there.
With flowers a major attraction, Wolong has made efforts to build itself into a beautiful village by restoring wetlands, improving its countryside landscape and repairing traditional dwellings. The village has organized a series of exhibitions and provided experience activities such as flower arrangements, study tours, and camping to try to attract tourists.
Pingyin county in east China's Shandong Province is a major rose producing area in the country. In recent years, Pingyin has exploited its rose resources while developing the tourism sector.
In 2022, tourists made 2.56 million trips to the county, generating total tourism revenue of 2.89 billion yuan ($420 million). More than 50,000 rose growers managed to increase their incomes.