LANZHOU, Sept. 6 (Xinhua) -- Pronkina Olga, a 37-year-old Russian professor at the Gansu University of Political Science and Law, is a huge fan of Dunhuang and has a strong bond with this ancient city on the Silk Road.
Her connection with Dunhuang began 16 years ago when she watched a performance of Dunhuang dance in her hometown in Russia's Penza. The dance performance drew inspiration from the murals in the Mogao Grottoes, a UNESCO World Heritage Site in Dunhuang, northwest China's Gansu Province.
The thrilling performance piqued her interest in Dunhuang culture, and so she later travelled to China to study Dunhuang culture. This year, she was invited to an academic symposium on the global significance of Dunhuang Studies in the city.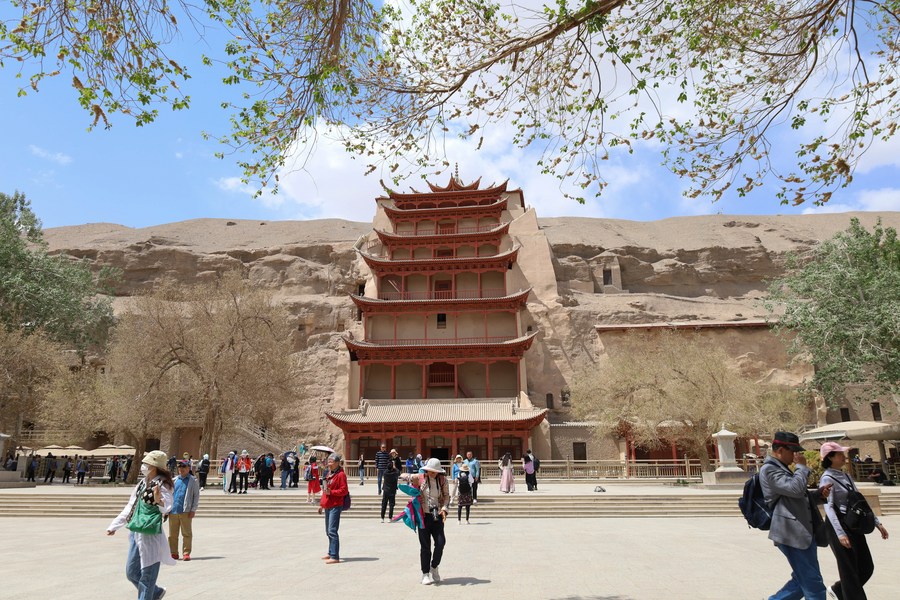 Tourists visit the Mogao Grottoes in Dunhuang, northwest China's Gansu Province, May 11, 2023. (Xinhua/Ma Xiping)
"Culture can connect different countries, religions, and nationalities. My life is rich and colorful because it is connected by cultures," she said.
She is not alone.
The study of cultural relics based on the Dunhuang grottoes and related documents has inspired the formation of an internationally distinguished discipline of Dunhuang studies since the cultural treasures of Dunhuang were rediscovered at the beginning of the 20th century.
Dunhuang studies and the preservation of Dunhuang's cultural relics have vigorously developed, and the ancient city with more than 2,000 years of history has gradually evolved into a world-renowned cultural and artistic treasure house.
With collaborative efforts of academic circles both at home and abroad, a wealth of outstanding academic achievements and a large number of international academic cooperation projects have emerged.
The protection of cultural relics in Dunhuang is also flourishing, securing the participation of an increasing number of young people and sci-tech professionals. Cultural relics protection technology and standards developed by the Dunhuang Academy are also assisting cultural relics preservation efforts beyond the region.
"Chinese civilization, represented by Dunhuang culture, has flourished for thousands of years, and one important reason is its continuous exchanges with other cultures," said Zhao Shengliang, Party chief of the Dunhuang Academy.
Dunhuang culture is not only a popular academic topic but also a prevalent cultural label. It has an extensive fan base in China and abroad, particularly among young people.
According to statistics, the number of tourists visiting Dunhuang's main scenic spots increased by nearly 30 percent this summer compared to the same period in 2019.
This tourist destination has made several social media headlines this year.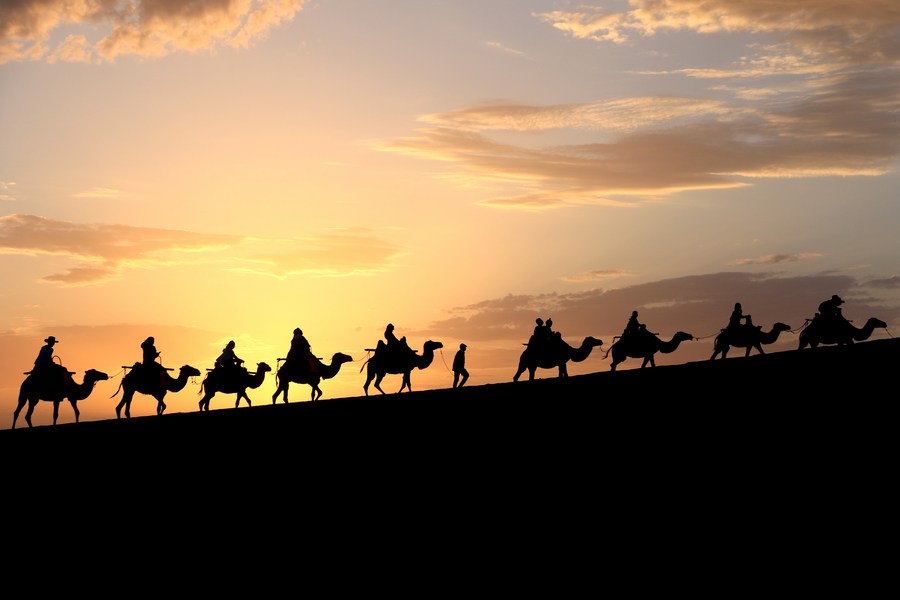 Tourists ride camels at the Mingsha Mountain and Crescent Spring scenic spot in Dunhuang, northwest China's Gansu Province, July 15, 2023. (Photo by Zhang Xiaoliang/Xinhua)
For instance, tourists may have to queue for hours to ride camels, and then line up to get across a desert crossroads, while people dressed in traditional costumes playing gods and goddesses from mural images are frequently seen in museums and scenic spots, garnering a lot of attention on social media.
In the meantime, an upgraded version of the Dunhuang dance Olga saw back home and an array of immersive performances based on Dunhuang art are well received in the city, while audiences were considerable during the peak season for tourists.
Local institutions and companies have developed creative cultural products, including brooches, refrigerator magnets, and bookmarks based on Dunhuang cultural elements such as nine-colored deer, flying apsaras, and caisson decorative patterns, which sell well in Dunhuang and online stores.
Dunhuang is also a golden business card for China's fine traditional culture to facilitate international communication and dialogue among civilizations.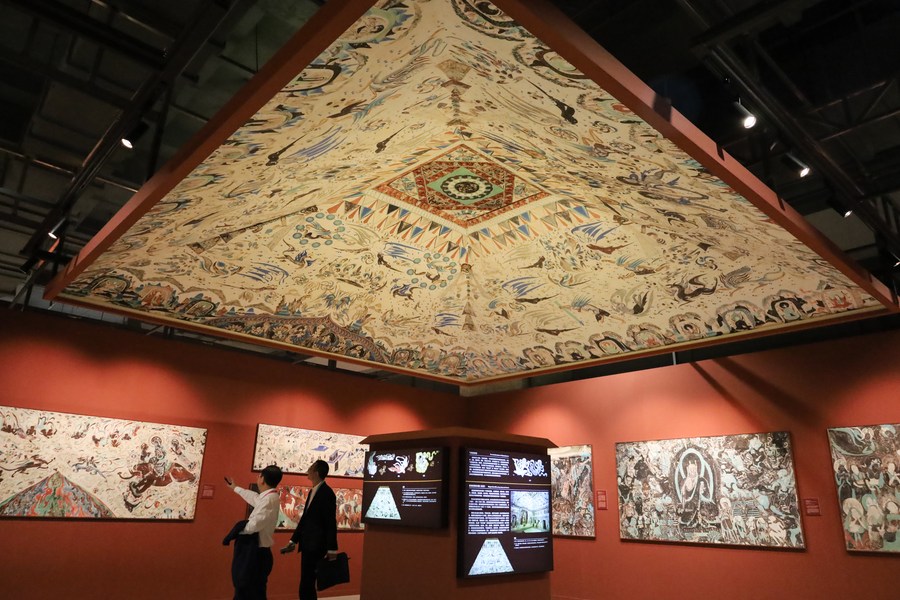 Attendees visit an exhibition themed on Dunhuang culture at the sixth Silk Road (Dunhuang) International Cultural Expo in Dunhuang, northwest China's Gansu Province, Sept. 6, 2023. (Xinhua/Ma Xiping)
This year marks the sixth Silk Road (Dunhuang) International Cultural Expo, which was founded in 2016.
More than 50 countries, regions, and international organizations took part in this year's expo, with more than 1,200 guests from home and abroad attending a series of forums and exhibitions.
Olga is taking part in the expo for the third time.
Different forms and activities of exchange, such as theatrical performances, cultural trade, and cultural tourism experiences, in Olga's opinion, are conducive to promoting people-to-people bonds in countries and regions along the Belt and Road.
As for the charm of Dunhuang, Olga sees her experience as a most eloquent example.
"My life is inextricably linked to Dunhuang culture," she explained.