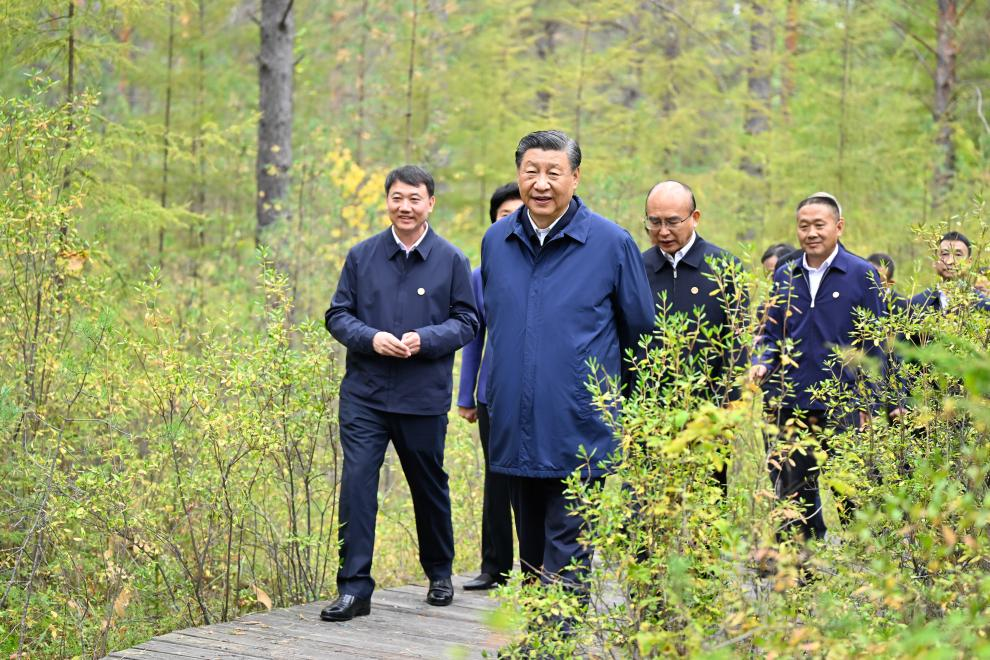 General Secretary of the Communist Party of China Central Committee Xi Jinping, also Chinese president and chairman of the Central Military Commission, inspects a forest farm in Mohe in the Dahinggan Mountains, northeast China's Heilongjiang Province, Sept. 6, 2023. Xi inspected northeast China's Heilongjiang Province from Wednesday to Friday. (Xinhua/Yin Bogu)
HARBIN, Sept. 8 (Xinhua) -- Chinese President Xi Jinping has called on the northeastern province of Heilongjiang to firmly grasp its strategic position in China's overall development, and strive to open new ground for its high-quality development.
Xi, also general secretary of the Communist Party of China (CPC) Central Committee and chairman of the Central Military Commission, made the remarks during his inspection in the province from Wednesday to Friday.
Xi stressed that Heilongjiang should turn its strengths into new development impetus and build and strengthen itself as an important national commodity grain production base and a heavy equipment manufacturing base, an important energy and raw material supplier, a vital guardian of ecological security in northern China, and a pivotal gateway for the nation's northward opening up.
He urged the province to play an active part in safeguarding national defense, food, ecology, energy, and industrial security.
At a forest farm in Mohe in the Dahinggan Mountains on Wednesday afternoon, Xi underscored that afforestation and protection of forests should be given equal priority, urging precaution against potential dangers to ensure that long-term achievements will not be swept away overnight.
At the Beijicun, or "North Pole Village," a riverside border village, he stressed the importance of increasing green coverage and protecting forests, calling for measures to enable people to increase their income on the basis of ecological protection.
Noting the importance of tourism sector in achieving high-quality development, Xi urged policy support to ensure that local scenery and snow and ice tourism resources generate more income for local people.
Concerned with the post-flood reconstruction, Xi on Thursday came to a village in Shangzhi City of Harbin, which bore the brunt of the recent flooding, where he checked the damage to rice crops and the reconstruction progress of damaged buildings.
Xi said that he felt reassured seeing that reconstruction was proceeding smoothly and that life and work are ensured.
Urging efforts to make sure those affected by the floods stay warm during the winter, Xi asked the local authorities to make detailed and sound plans as soon as possible on all matters related to people's livelihood such as food, accommodation, employment, education and health, leaving no loopholes.
He called for accelerating post-disaster reconstruction, minimize the agricultural losses caused by the disaster, and guarantee the disaster-stricken people relief and security.
At Harbin Engineering University, Xi underscored the work in education, science and technology and talent, and called for more accomplishments in building China into a leading country in those respects.
In light of the upcoming Teachers' Day, Xi extended festival greetings to faculty members of the university as well as all teachers across the country.
Xi heard a work report by the CPC Heilongjiang Provincial Committee and the provincial government.
Xi noted that sci-tech innovation should lead the overall industrial revitalization, urging concrete efforts to promote the high-quality development of advanced manufacturing, accelerate the upgrading of traditional manufacturing, and improve the primary, secondary and tertiary industries in all respects.
Sci-tech innovation resources should be integrated to spearhead strategic emerging industries and future industries, Xi said, adding that the province should enhance the core competitiveness of state-owned enterprises and guide the sound development of private enterprises.
The province should actively link with national industrial and supply chains, better integrate into the unified national market, and play a bigger role in bridging domestic and international economic flows.
He also emphasized the adherence to green development and establishing a sound economic system that facilitates green, low-carbon and circular development.
Heilongjiang should serve as a "ballast" in ensuring national food security, Xi stressed, urging the province to prioritize developing modern agriculture and take the lead in achieving modernization regarding agricultural equipment, science and technology, and operation and management, as well as in realizing agricultural informatization and the sustainability of resource utilization.
Xi said digital technology and biotechnology should be reinforced, and agriculture-related science and technology should be given greater prominence.
He also ordered efforts to create new modes of agricultural operation, forge industrial clusters, and speed up advancing rural revitalization to ensure modern production and living conditions are accessible to rural residents.
Tourism with distinctive cultural features should be vigorously developed, Xi said, noting that the winter economy should be fostered as a new source of growth, promoting the overall development of sports, culture, equipment, and tourism related to ice and snow.
Xi highlighted the efforts to maintain the original views of forests, rivers, lakes, wetlands and snow, improve the infrastructure in border areas and develop tourism in those areas.
A pivotal gateway for the nation's northward opening up should be built, Xi stressed, adding that more efforts should be made in coordinating trade, investment and platforms, as well as introducing measures in market access and flows of production factors to form a new pattern of all-round opening up.
Xi also stressed the need to improve the transport network oriented to the opening up toward Northeast Asia, while integrating more deeply into the Belt and Road cooperation, and participating more actively in regional cooperation.
On the ongoing education campaign launched by the CPC, Xi urged efforts to turn good practices refined during the campaign into long-term mechanisms.
He called for sound and coordinated planning for the campaign under specific guidance to ensure that concrete results are achieved.
Cai Qi, a member of the Standing Committee of the Political Bureau of the CPC Central Committee and director of the General Office of the CPC Central Committee, accompanied Xi on the inspection tour.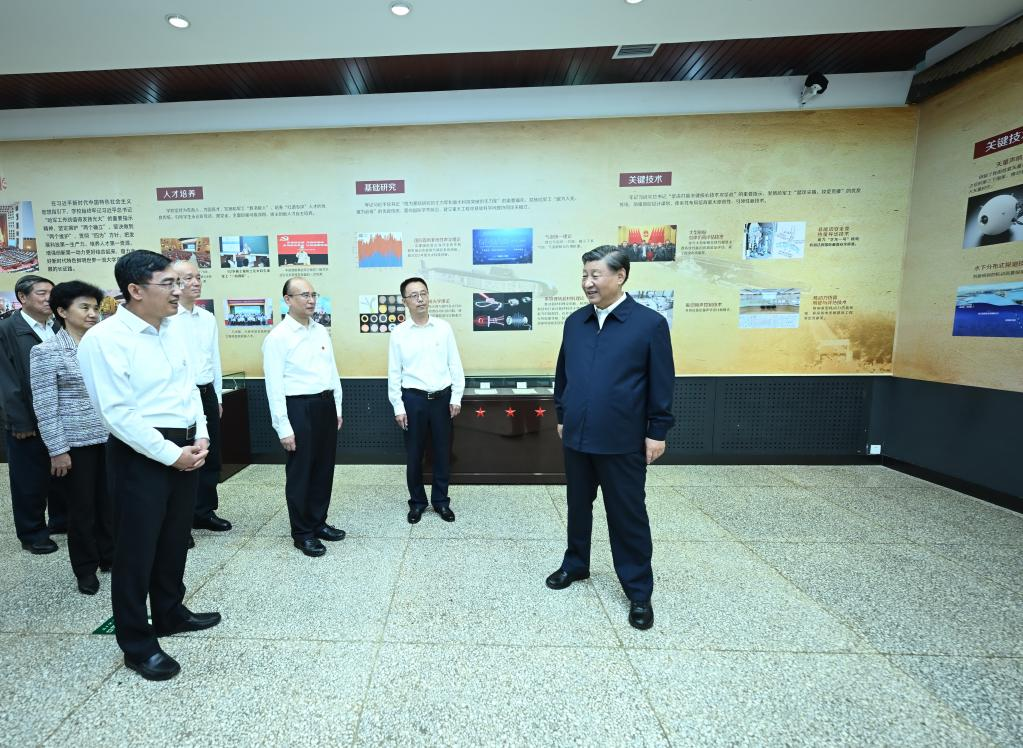 General Secretary of the Communist Party of China Central Committee Xi Jinping, also Chinese president and chairman of the Central Military Commission, inspects a memorial hall at Harbin Engineering University in Harbin, northeast China's Heilongjiang Province, Sept. 7, 2023. Xi inspected northeast China's Heilongjiang Province from Wednesday to Friday. (Xinhua/Xie Huanchi)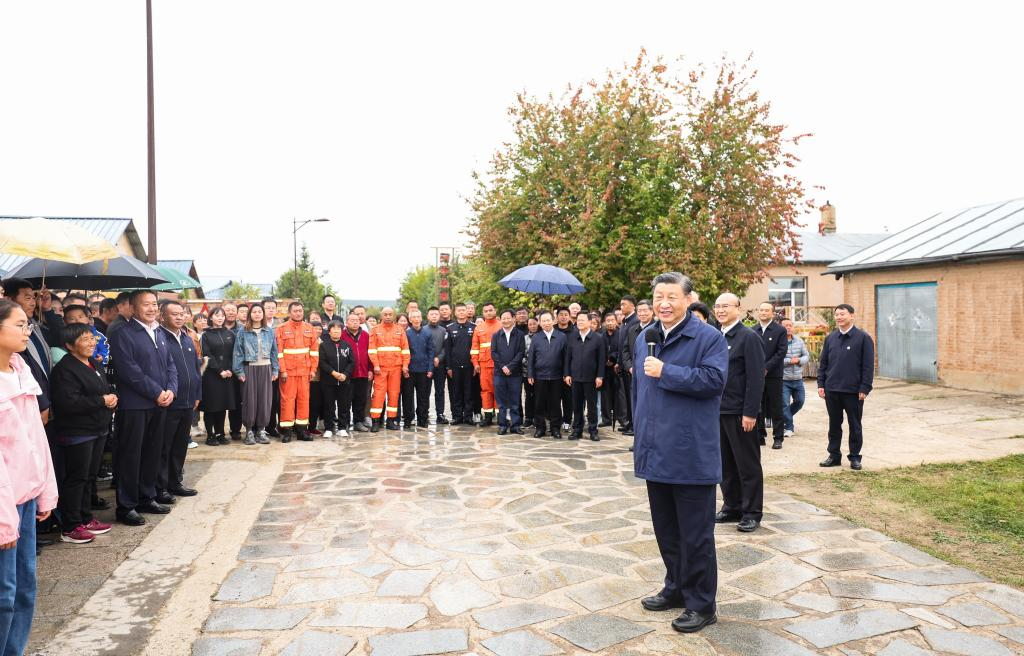 General Secretary of the Communist Party of China Central Committee Xi Jinping, also Chinese president and chairman of the Central Military Commission, talks with local residents while inspecting the Beijicun, or "North Pole Village," a riverside border village, in Mohe, northeast China's Heilongjiang Province, Sept. 6, 2023. Xi inspected northeast China's Heilongjiang Province from Wednesday to Friday. (Xinhua/Ju Peng)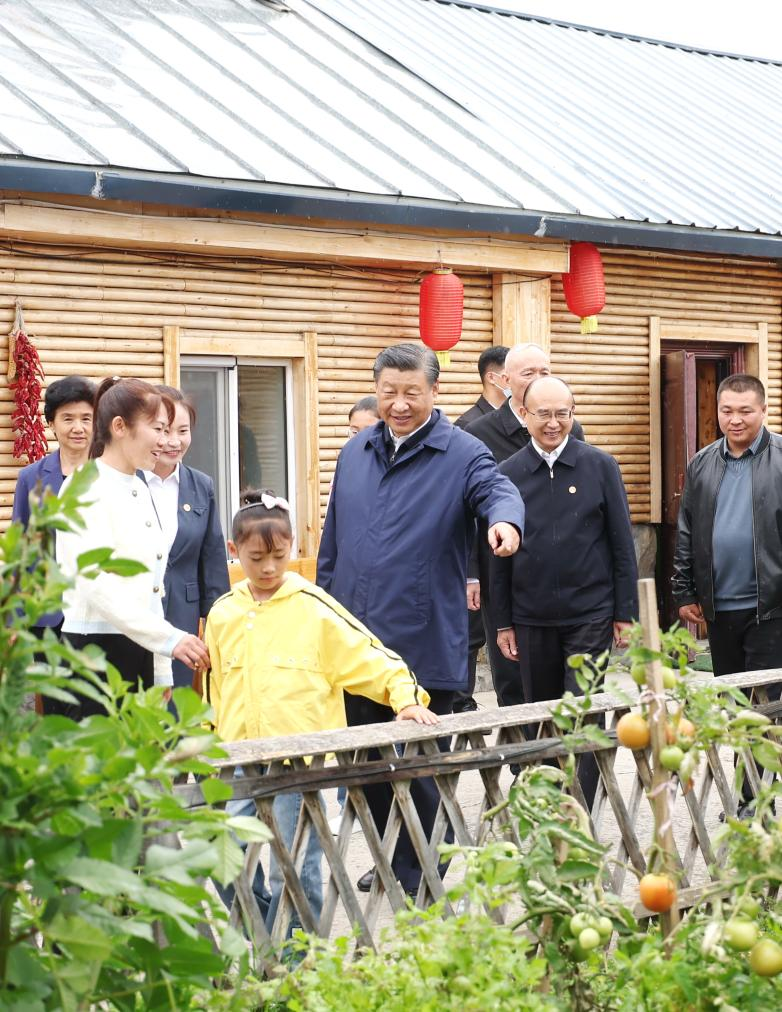 General Secretary of the Communist Party of China Central Committee Xi Jinping, also Chinese president and chairman of the Central Military Commission, inspects the yard of a homestay run by villager Shi Ruijuan at the Beijicun, or "North Pole Village," a riverside border village, in Mohe, northeast China's Heilongjiang Province, Sept. 6, 2023. Xi inspected northeast China's Heilongjiang Province from Wednesday to Friday. (Xinhua/Ju Peng)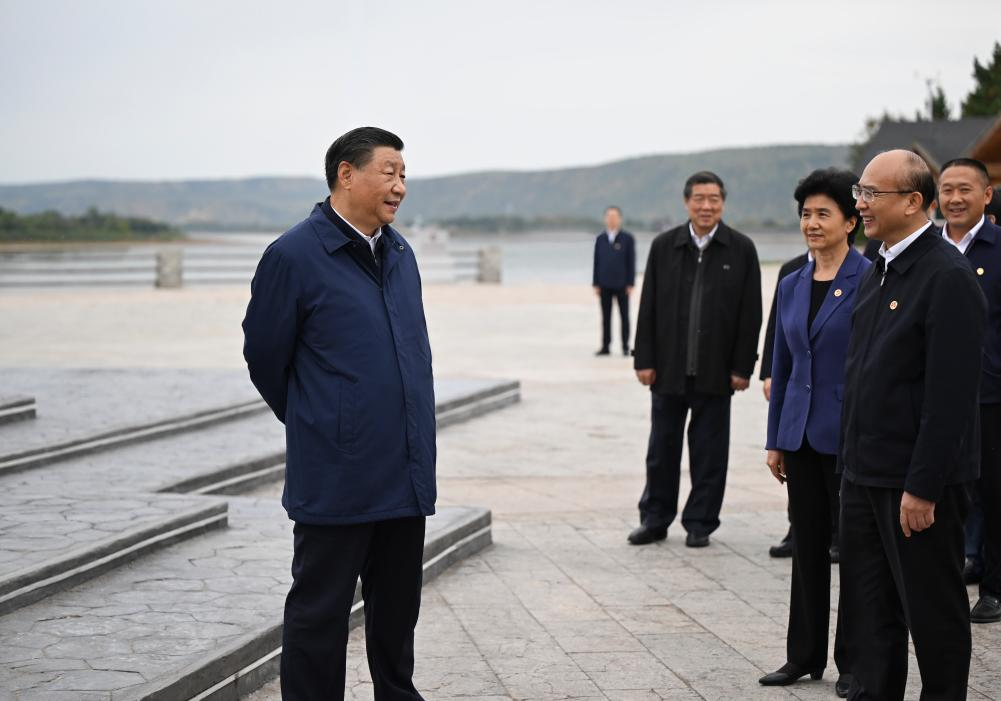 General Secretary of the Communist Party of China Central Committee Xi Jinping, also Chinese president and chairman of the Central Military Commission, inspects the Beijicun, or "North Pole Village," a riverside border village, in Mohe, northeast China's Heilongjiang Province, Sept. 6, 2023. Xi inspected northeast China's Heilongjiang Province from Wednesday to Friday. (Xinhua/Xie Huanchi)
General Secretary of the Communist Party of China Central Committee Xi Jinping, also Chinese president and chairman of the Central Military Commission, inspects a forest farm in Mohe in the Dahinggan Mountains, northeast China's Heilongjiang Province, Sept. 6, 2023. Xi inspected northeast China's Heilongjiang Province from Wednesday to Friday. (Xinhua/Xie Huanchi)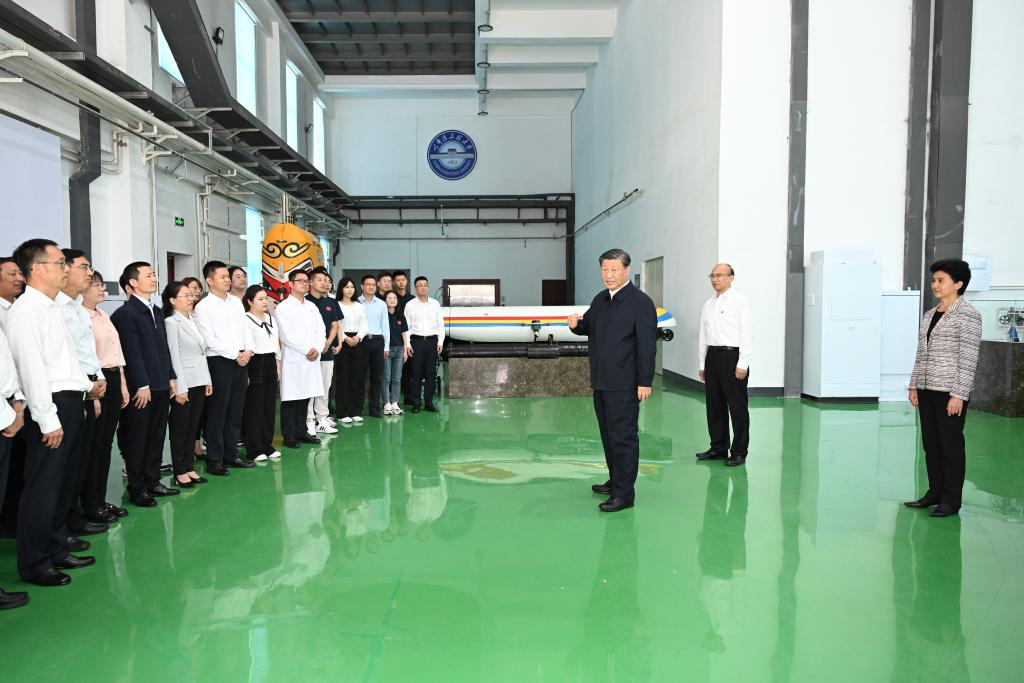 General Secretary of the Communist Party of China Central Committee Xi Jinping, also Chinese president and chairman of the Central Military Commission, talks with representatives of faculty members and students while inspecting Harbin Engineering University in Harbin, northeast China's Heilongjiang Province, Sept. 7, 2023. Xi inspected northeast China's Heilongjiang Province from Wednesday to Friday. (Xinhua/Xie Huanchi)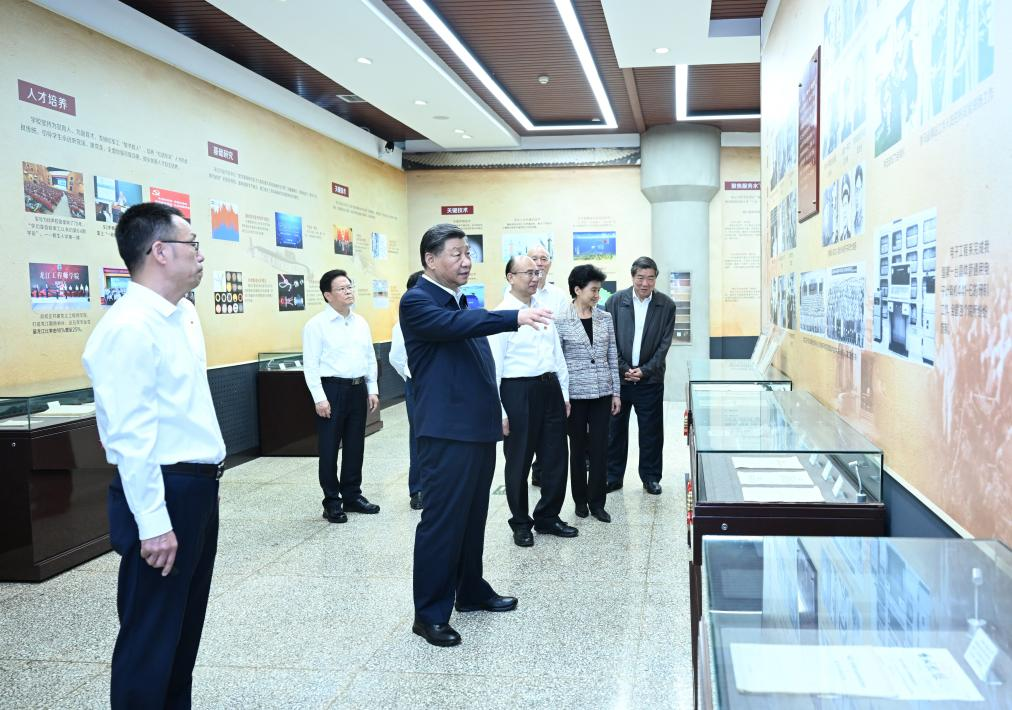 General Secretary of the Communist Party of China Central Committee Xi Jinping, also Chinese president and chairman of the Central Military Commission, inspects a memorial hall at Harbin Engineering University in Harbin, northeast China's Heilongjiang Province, Sept. 7, 2023. Xi inspected northeast China's Heilongjiang Province from Wednesday to Friday. (Xinhua/Xie Huanchi)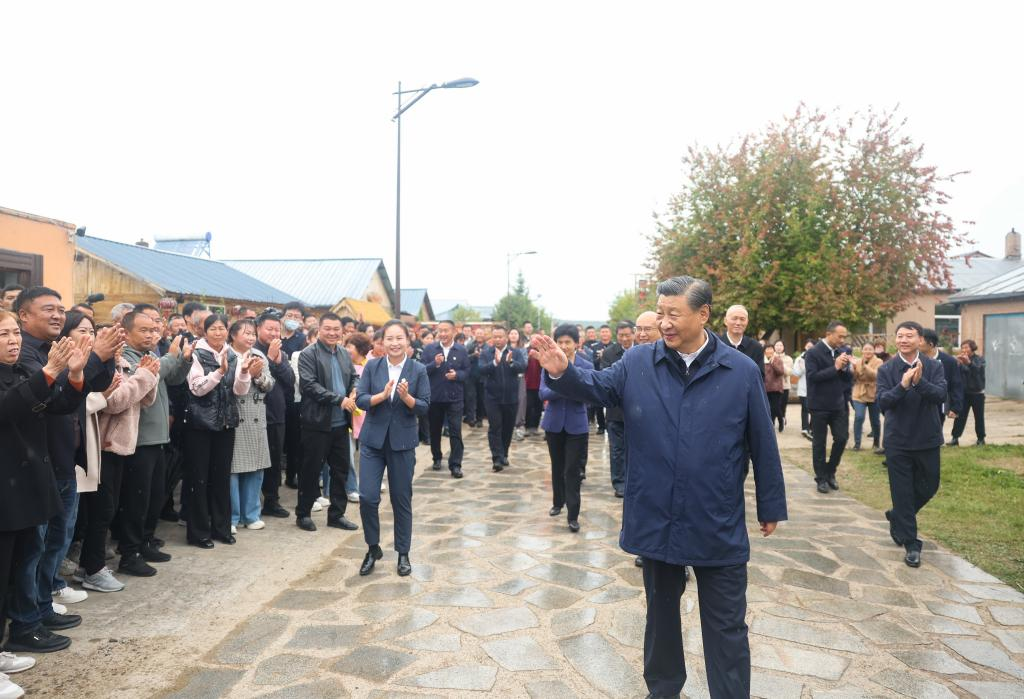 General Secretary of the Communist Party of China Central Committee Xi Jinping, also Chinese president and chairman of the Central Military Commission, greets local residents while inspecting the Beijicun, or "North Pole Village," a riverside border village, in Mohe, northeast China's Heilongjiang Province, Sept. 6, 2023. Xi inspected northeast China's Heilongjiang Province from Wednesday to Friday. (Xinhua/Ju Peng)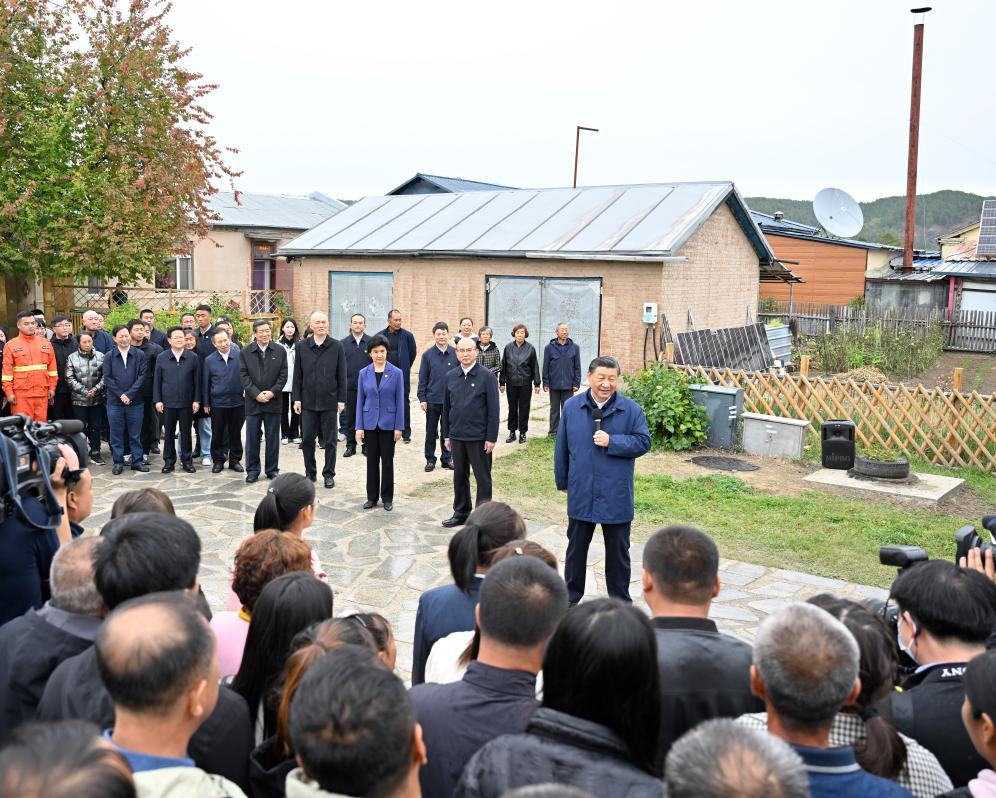 General Secretary of the Communist Party of China Central Committee Xi Jinping, also Chinese president and chairman of the Central Military Commission, talks with local residents while inspecting the Beijicun, or "North Pole Village," a riverside border village, in Mohe, northeast China's Heilongjiang Province, Sept. 6, 2023. Xi inspected northeast China's Heilongjiang Province from Wednesday to Friday. (Xinhua/Yin Bogu)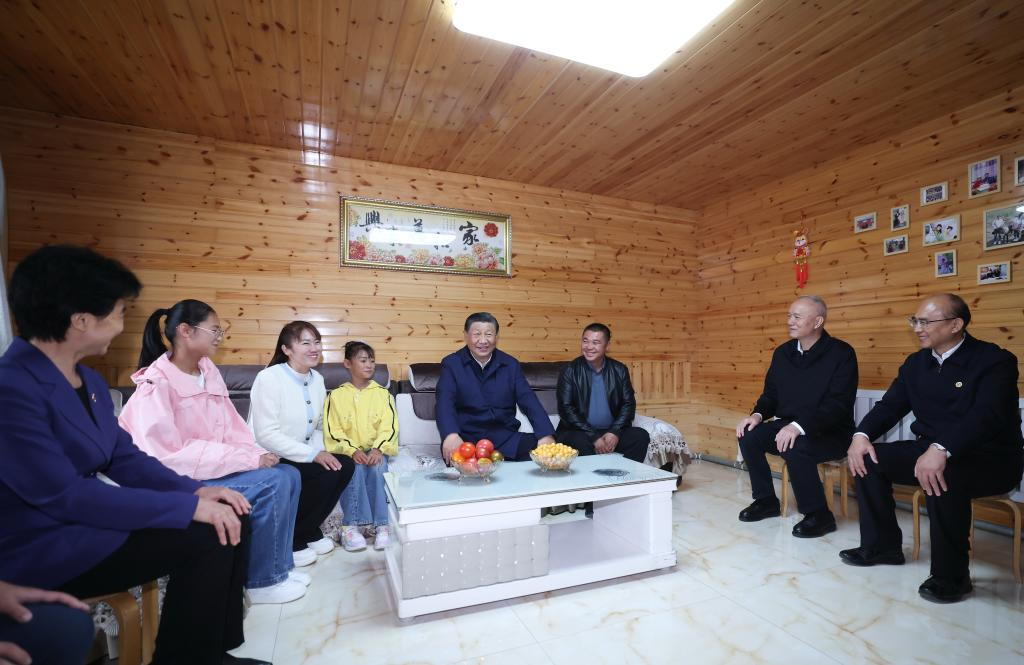 General Secretary of the Communist Party of China Central Committee Xi Jinping, also Chinese president and chairman of the Central Military Commission, talks with villager Shi Ruijuan and her family members at the Beijicun, or "North Pole Village," a riverside border village, in Mohe, northeast China's Heilongjiang Province, Sept. 6, 2023. Xi inspected northeast China's Heilongjiang Province from Wednesday to Friday. (Xinhua/Ju Peng)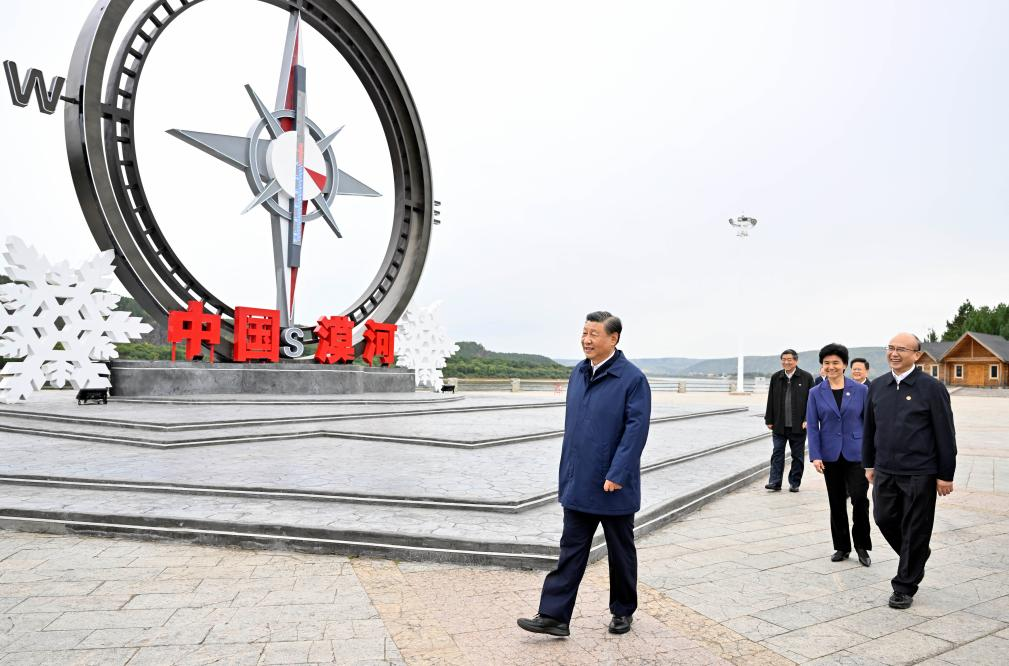 General Secretary of the Communist Party of China Central Committee Xi Jinping, also Chinese president and chairman of the Central Military Commission, inspects the Beijicun, or "North Pole Village," a riverside border village, in Mohe, northeast China's Heilongjiang Province, Sept. 6, 2023. Xi inspected northeast China's Heilongjiang Province from Wednesday to Friday. (Xinhua/Yin Bogu)