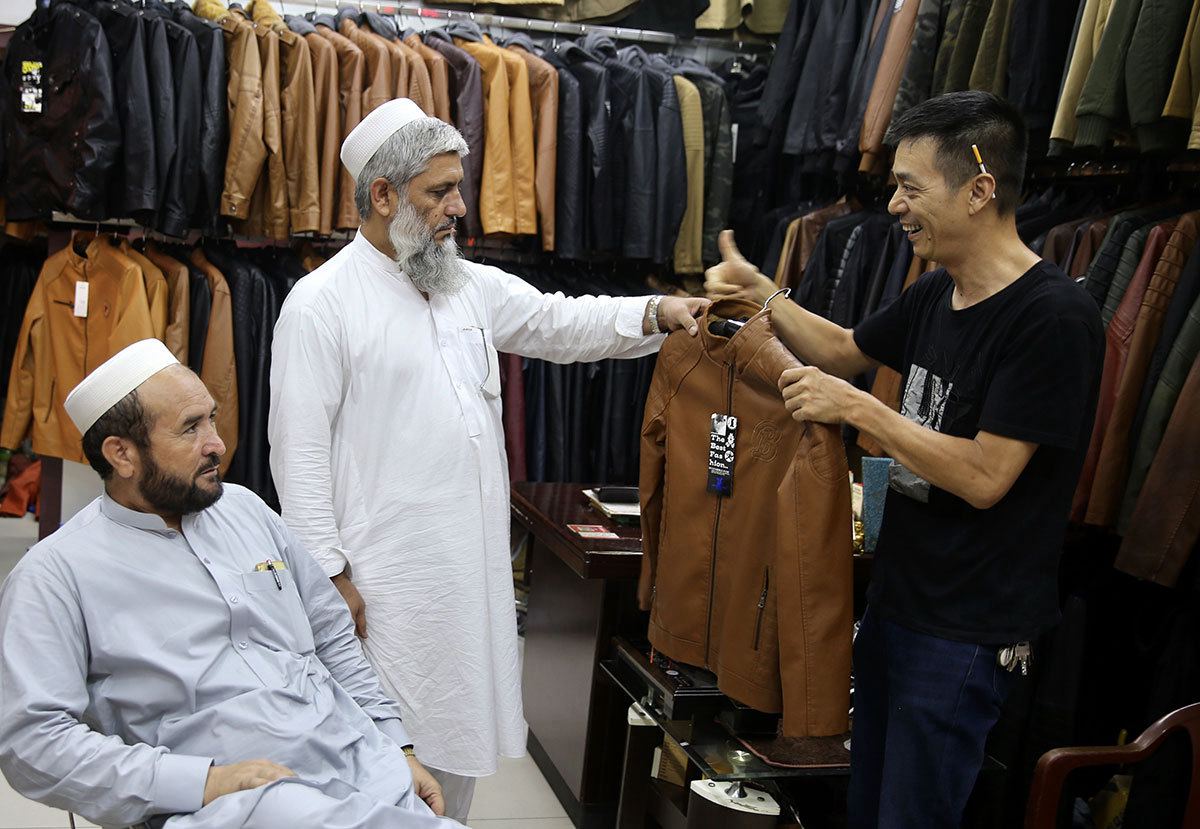 Two businessmen from the Middle East visit a leather jacket shop at a market in Shishi, Fujian province. (China Daily/Hu Meidong)
A central player in the 21st Century Maritime Silk Road strategy, Quanzhou is leveraging old and new links to spread its global reach
Fluent in Chinese and seasoned in bargaining, Mohammed Al-Sabri cuts a popular figure as he roams between different stores at a bustling clothing mall.
The 34-year-old Yemeni's business is to help his clients from the Middle East place purchase orders with factories and stores in Shishi, a coastal city administered by Quanzhou, Fujian province.
Al-Sabri has honed his skills and built up contacts over more than a decade in China. "For most clients, they look for products with the best design, quality and price. That is exactly what they can find here," he said.
Al-Sabri is one of thousands of Arabs exploring business opportunities at Shishi, a major manufacturing hub for fashion apparel. He follows in the steps of thousands of Arab merchants who were doing business in the city as early as the Song Dynasty (960-1279), and traveling a trade route later to become known as the Maritime Silk Road.
With its robust foreign trade, strong private sector and booming maritime transport, Fujian authorities are looking to revive the ancient trade route with measures boosting connectivity and encouraging businesses to go global.
A policy document released by the central government in 2015, named the province as a core area for the development of the 21st Century Maritime Silk Road, the sea route component of the Belt and Road Initiative.
Quanzhou, with the highest GDP of any city in Fujian for the past 20 years, was named the lead area for the 21st Century Maritime Silk Road. The city has already seen its efforts paying off via closer trade and economic cooperation with economies involved in the BRI.
The total trade volume with BRI countries reached 84.9 billion yuan ($11.8 billion) last year, up 20.3 percent year-on-year, according to the municipal bureau of commerce.
The total volume of overseas investment by Quanzhou businesses in countries involved with the maritime trade route reached $770 million in August, while 1,600 businesses from BRI countries have invested $2.5 billion in the city.
"For private businesses, the 21st Century Maritime Silk Road has offered them better opportunities to expand their international operations," said Huang Tingyu, deputy head of the commerce bureau.
"It will make it safer and easier for them to pursue their overseas investment."
Booming trade
A major producer of textiles, clothing, shoes and building materials, Quanzhou had GDP of 846.8 billion yuan last year, up 8.9 percent year-on-year. Private businesses accounted for 82.1 percent of the economic volume and contributed 88.1 percent of GDP growth.
"The city's long tradition of sea transport and doing business has injected vitality into business activities. We also have generations of entrepreneurs empowered by the spirit of daring to win," Huang said.
The most important priority for authorities is to create an enabling environment for businesses to prosper.
"We only make our presence felt to businesses when we are needed. Otherwise we leave them undisturbed," Huang said.
The clothing mall in Shishi was included in a pilot program launched by seven central government departments to enable quicker customs clearance and cutting of red tape.
Expats doing business in Quanzhou have been the primary beneficiaries of the program.
Mohammed Mokhtar Sallam, a 55-year-old Saudi Arabian, placed a $3 million order for clothing during a recent trip to the clothing mall in Shishi.
He made his first trip to China in 1994. Sallam said China's recent efforts to streamline customs clearance procedures and closer ties between the two countries had benefited his trade.
"I was only granted a visa for a stay of 30 days. I spend most of my time here in Shishi because I can find products with good prices and quality," he said.
Some private businesses in Quanzhou are increasingly eyeing the global market for mergers and acquisitions.
In one of the most high-profile moves, Anta Sports Products, based in Jinjiang, this year led a $5.3 billion acquisition of Finland's Amer Sports - the maker of Wilson tennis rackets - in a bid to expand its earnings beyond China.