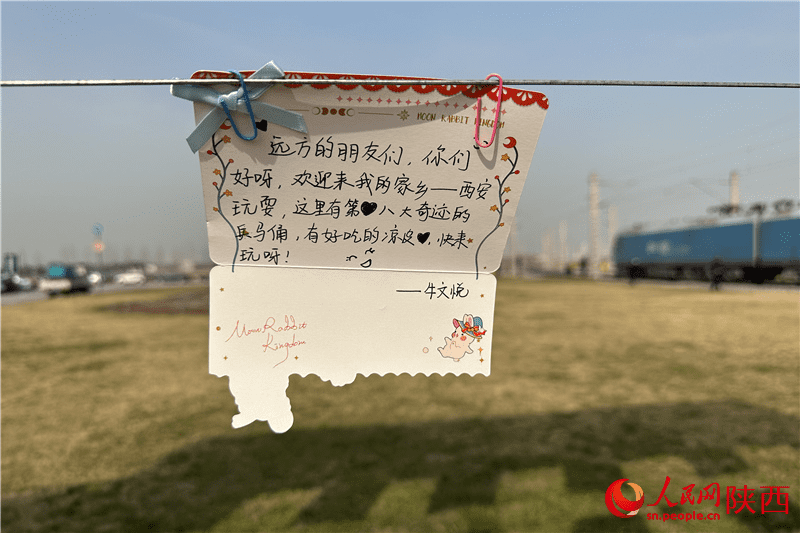 Photo taken on Mar. 7, 2023 shows a card written by a child in Xi'an, northwest China's Shaanxi Province, which invites Kazakhstani children to visit the city. (Photo/Li Zhiqiang)
A China-Europe cultural freight train left Xi'an city, northwest China's Shaanxi Province for Kazakhstan on March 7, 2023. The train is loaded with gifts featuring Chinese traditional art to be delivered to women and children of the North Kazakhstan Region of Kazakhstan.
The gifts include hand-painted scarves, shadow puppetry, paper cutting works, and straw patchworks.
Children in Xi'an have also drawn paintings of their hometown, and written letters to children in Kazakhstan.
"Friends from afar, how are you? Welcome to my hometown, Xi'an! We are home to the eighth miracle of the world -- the Terracotta Warriors. We also have tasty steamed cold noodles. Come and visit my city!" writes Niu Wenyue, a child in Xi'an.
At the departure ceremony, the organizers presented international students from Kazakhstan artworks of Chinese intangible cultural heritages.
The Women's Federation in Xi'an and Xi'an Women and Children's Activity Center plan to promote the creation and exhibition of handicraft works made by women in Xi'an and North Kazakhstan Region to increase their income though handicraft works.
The Women's Federation in Xi'an will also encourage more entities, enterprises and women to engage in cultural exchange activities along the China-Europe freight train routes.