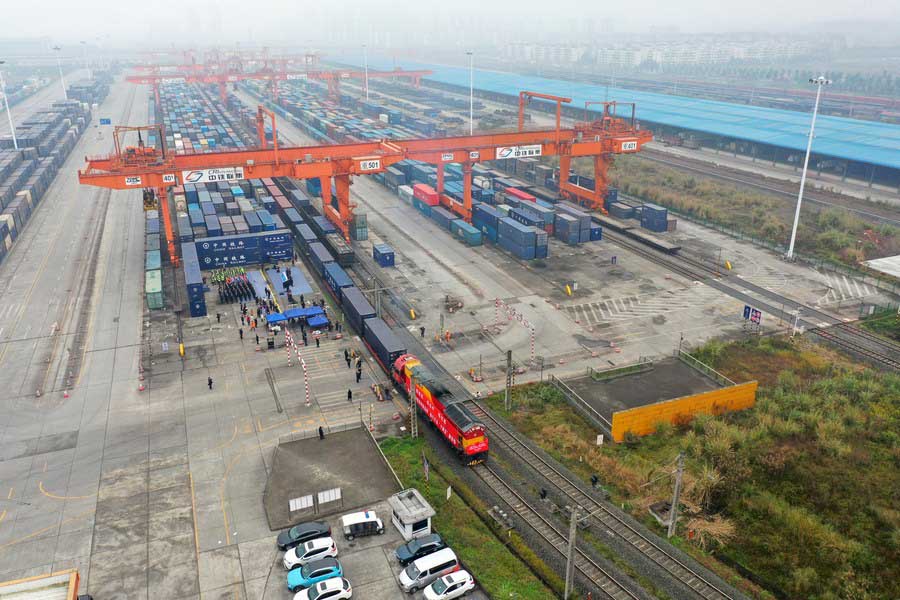 Aerial photo shows a China-Europe freight train bound for Duisburg of Germany departing from Tuanjiecun Railway Station in southwest China's Chongqing, Jan. 1, 2021. (Xinhua/Tang Yi)
Over recent years, China-Germany relations have generally maintained smooth development, with cooperation in various fields showing strong resilience amid the COVID-19 pandemic, which has brought a genuine sense of fulfillment to the people in both countries, he said.
The two countries, he added, have helped China and the EU to complete their investment agreement negotiations on schedule, and worked together to uphold multilateralism, safeguard free trade, and actively tackle climate change, jointly making positive contributions to maintaining world peace and stability.
The fundamental reason for the great achievements of China-Germany relations, he said, lies in the fact that the two countries respect each other, seek common ground while reserving differences, focus on win-win cooperation and pursue complementation of their respective advantages.
Xi expressed his hope that Germany will encourage the EU to adhere to the right policy on China, treat differences objectively and address them rationally, so as to promote the sustained and sound development of China-EU relations.