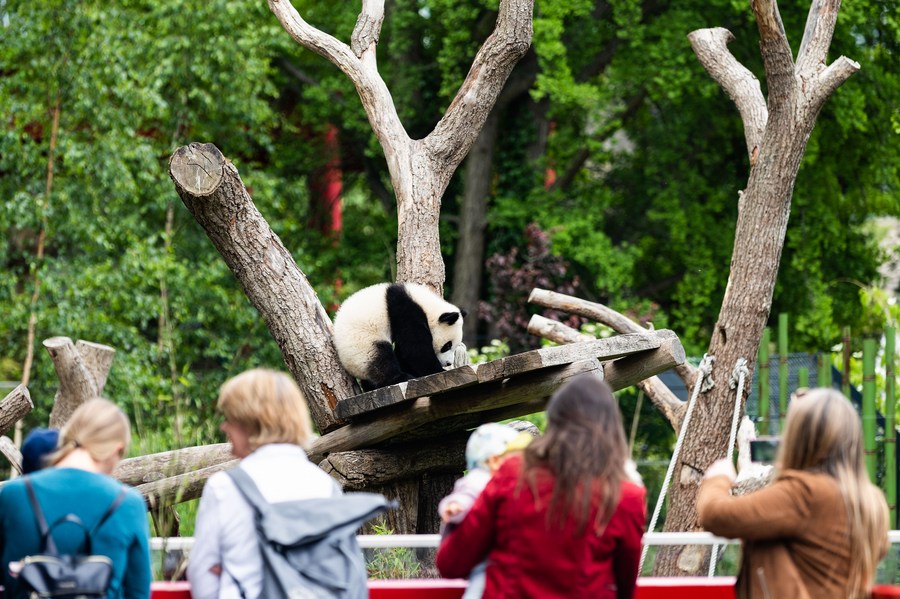 Visitors look at a giant panda cub at Zoo Berlin in Berlin, capital of Germany, May 28, 2020. (Photo by Binh Truong/Xinhua)
For her part, Merkel said that over recent years there are many aspects in the development of Germany-China and EU-China relations that are worth summing up.
She said she is willing to maintain close communication with the Chinese side and make joint efforts to push Germany and China as well as the EU and China to bridge gaps through dialogue and properly handle their differences.
The EU-China investment agreement is beneficial for both sides, she said, adding that she hopes it can be smoothly ratified and put into effect as soon as possible.
Germany hopes to strengthen vaccine cooperation with China, she added.
Merkel shared her view on the current situation in Afghanistan, and expressed her hope to work with China to strengthen communication and coordination within the United Nations and other multilateral frameworks.
Xi stressed that China advocates coexistence and mutual learning among different civilizations, opposes interference in other countries' internal affairs, and stands ready to make constructive efforts with the international community, including Germany, to truly realize peace and stability in Afghanistan.