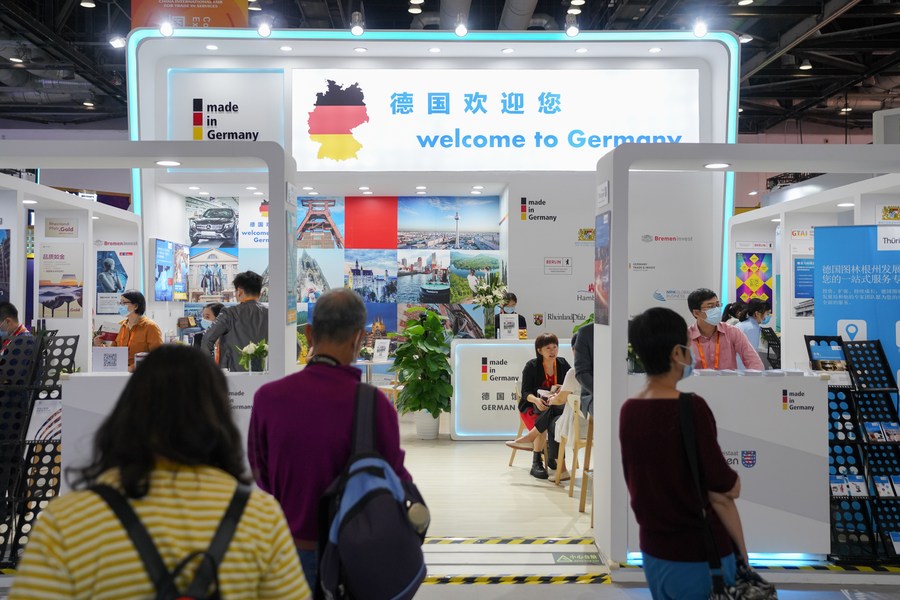 Visitors tour the Germany exhibition booth during the 2021 China International Fair for Trade in Services (CIFTIS) in Beijing, capital of China, Sept. 5, 2021. (Xinhua/Wang Tiancong)
BEIJING, Sept. 10 (Xinhua) -- The China-Germany relationship will continue to make new progress, as long as both sides hold on to consolidating and deepening mutual trust, treating each other as equals and focusing on cooperation, Chinese President Xi Jinping said Friday in a phone conversation with German Chancellor Angela Merkel.
Xi noted that he and Merkel have maintained highly frequent and efficient exchanges since last year, which has played an important leading role in the development of China-Germany and China-European Union (EU) relations, and also demonstrated the high-level mutual trust between the two countries.
Xi said he highly appreciates the fact that Merkel has been actively committed to promoting Germany's and the EU's practical cooperation and friendly exchanges with China.